Crimestoppers have today launched an appeal for information in relation to the murder of Andrew Allen who was murdered in Buncrana, on the 9th of February 2012.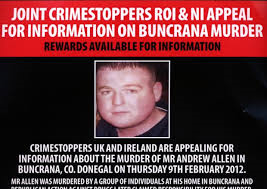 According to Detective Inspector Pat O'Donnell, "Mr Allen moved to Buncrana after he became the target of the vigilante group Republican Action Against Drugs in his native Derry City.
"Unfortunately, this activity persisted and three years ago in February 2012 he was murdered by a group of individuals in Buncrana."
He continued, "We believe that there were a large number of individuals involved on the night of Andrew's murder.
"However, our understanding is that some of these individuals did not intend for the events that unfolded to lead to his death."
Detective Inspector O'Donnell said, "We know that some of these individuals have already considered coming forward with important information on this case.
"I would appeal to these individuals or any other individuals involved on the night to take this opportunity to come forward.
"They have the option of giving this information anonymously to the Crimestoppers line on 1800 25 00 25 today or by contacting the Gardai."
The appeal is being jointly run with Crimestoppers Northern Ireland. Calls to Crimestoppers NI can be made from within Northern Ireland on freephone 0800 555 111.
Calls to Crimestoppers are anonymous. Callers do not need to leave their name or address. You may receive a reward for information which significantly helps the investigation.
Tags: