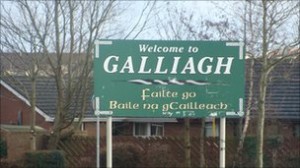 The people of the Galliagh area of Derry are shocked and angered by last night's sequence of violent incidents during which a firearm was used, a local councillor has said.
The PSNI have confirmed three men, aged 18, 22 and 23, were arrested in connection with the incidents.
While they said one of the men was described as having a firearm there were no reports of any shots having been fired during the incidents.
There had been reports a shot had been fired during an attempted hijacking during a night of "mayhem and terror" in the area.
Cllr Tierney said while there were "varying" reports on the exact details of what happened, was "shock and anger" in the community.
He added: "It must be made equally clear that this type of activity cannot be tolerated and I would urge anyone with information on those behind this rampage to pass it to the PSNI.
"The victims of last night's events and their families are understandably badly shaken by the incidents which are to be utterly condemned."
Cllr Tierney concluded: "A lot of work has been carried out to curb anti-social behaviour and violence in our community in recent years and it is important that the positive image being created is not tarnished by the reckless actions of a few thugs."
Tags: