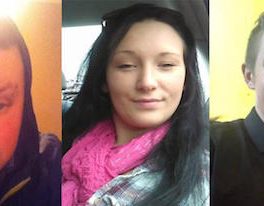 A PRIEST has spoken of his sorrow after attending the scene of a car crash that killed three young people.
Friends Steven McCafferty, 19, Teresa Robinson, 20, and Kaylem Ó Murachaidh, aged 18, all perished in a head-on collission in Drumkeen, Co Donegal in the early hours of Thursday morning.
A fourth man is in a serious condition in Letterkenny hospital.
Fr Eamonn Kelly said: "We blessed the bodies of the three deceased and we said a prayer for the man that was injured."
The tragic deaths came just 24 hours
...