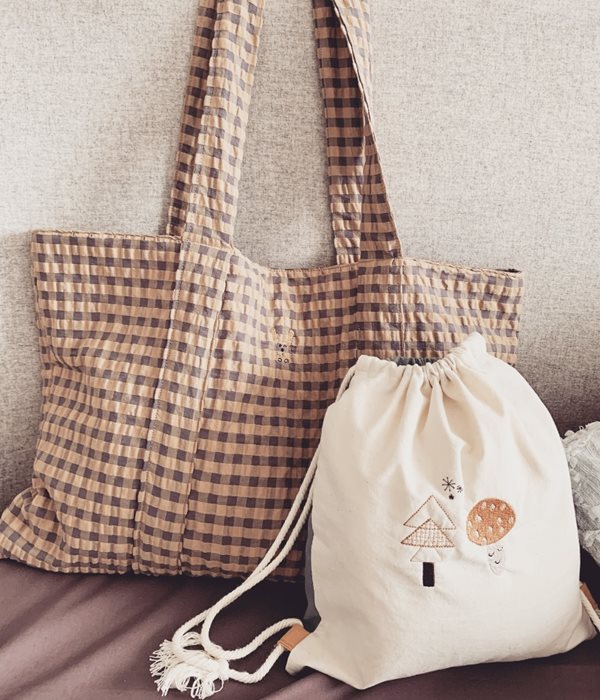 Derry based eco friendly children's bedding and accessories specialists boey + becci are looking forward to connecting with new customers and other craft and design specialists when they exhibit for the first time at this year's Guildhall Craft Fair.
Lisa McLaughlin founded the business just two years ago with the aim of using organic fabrics to offer people the highest quality products that are not only kind to mothers and babies but the planet too.
A graduate in Textile Design, Lisa was able to give more attention to her passion for fashion and set up the business during the Covid pandemic.
She returned home to Derry at the start of this year to give the enterprise her full focus and she now has her own space in the city centre at the Fashion and Textile Design Centre in Shipquay Street.
Boey + becci are part of a growing cluster of new textile businesses in the city with a sustainable ethose at their core and a number of them will be taking part in this year's Craft Fair which returns to the Guildhall from Friday November 17th to Sunday November 19th.
"I was a Civil Servant for 20 years but I decided I wanted to focus on my passion for design and after completing a HND in Fashion and Textiles at the North West Regional College I decided to move to Hereford in England to complete the final year of a Textile Design Degree in 2018," Lisa recalls.
"I thought it was going to be a real challenge as a mature student living in halls but those three years turned out to be the best years of my life.
"I graduated in 2019 and won various awards for my final major project which focused on designing waste out of the system and having a more innovative and sustainable approach to traditional textile design.
"In 2019, I moved to Wellingborough with my partner and started to look for a job in textile design.
"Within a few months I was unable to find a job and decided to work in a private bank until I could find a job in textiles.
"Three months into my new role lockdown happened and I felt the need to refocus on my passion and decided to start my own business whilst working full-time.
"Boey + becci was inspired by the births of six beautiful babies in our immediate and extended family.
"I concentrated on building the business in the evenings and weekends and signed up for new businesses start up courses.
"Using the skills I had learned when studying I designed the logo, branding, website and all of the products always keeping in mind that boey + becci was a sustainable brand."
Using organic fabrics is particularly important to Lisa, not just for the environmental benefits but because they add to the quality of her products.
"Organic cotton is softer, more durable and more breathable than conventional cotton," she explained.
"In addition, because no toxic chemicals are used in its production, organic cotton is less irritating to sensitive
skin and less likely to cause allergies & therefore better for babies/children and the planet.
"We currently design and make quilts, bedding, cushions, kids gym bags, everyday totes and baby changing bags."
Returning home to Derry has allowed Lisa to be back near family and friends but the support that is available locally for new start-ups also had a major bearing on her decision.
"I had a strong feeling that I needed to come back home to Derry as I knew there was a lot more support for new business start-ups," she continued.
"Returning home was the best decision that I have made as we have received an overwhelming amount of support from various local businesses including Derry City and Strabane District Council, AwakenHub and The Fashion and Textile
Design Centre (FTDC).
"We now have a studio based in the FTDC in Shipquay Street which has enabled us to develop the business even further with the added bonus of having access to all of the facilities and support from numerous experienced designers, seamstresses and business owners."
Celebrating its 27th edition this year, the Guildhall Craft Fair will showcase an exquisite range of bespoke craft items created by craft design-makers and artisan food producers throughout Ireland.
The fair takes place in the Guildhall in Derry's city centre and is renowned for attracting a large number of visitors looking for that special gift or purchase for Christmas.
All goods on display are exclusively handmade in Ireland and Lisa is excited to be showcasing with some of the top local names in the county in her home town.
"I'm really excited to be part of the Guildhall Craft Fair as it will be our first one and no better place to start than in my home town.
"We have had a huge amount of support from the people of Derry since we setup and it will be lovely to connect with our customers face-to-face and also meet with other designers/sellers.
"I am a big advocate of shopping locally and supporting local businesses and I can't wait to get stocked up with a few Christmas presents myself.
"Our focus going forward is to develop our product portfolio, brand awareness and build an in-house team for manufacturing, sales and marketing.
"We are working on developing a baby gift box and will be creating new collections using different colour/print fabrics, designing our own unique boey + becci print using digital embroidery and developing a new range using locally sourced soft Irish linen with the boey + becci motif.
"In addition to all of this, we are also very excited to be selected to be part of the AwakenHub SheGenerate 3.0 accelerator programme which starts next week."
Opening Times for the Fair are Friday 17th November: 12noon – 8pm, Saturday 18th November: 10am – 6pm, Sunday 19th November: 11am – 6pm
The Fair marks the start of a packed programme of events to celebrate Christmas in Derry and Strabane, visit: derrystrabane.com/Christmas for more.
Follow Council's support local campaign using the hashtags #ChristmasDS and #GiftLocal on social media.
Tags: