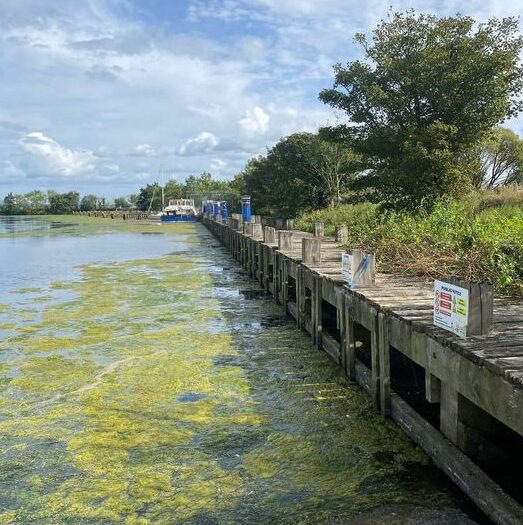 People Before Profit Councillor Shaun Harkin has said that Derry City and Strabane District Council should take the lead on the urgent response to Lough Neagh,
Said the Foyleside councillor: "The disaster unfolding in Lough Neagh is a direct result of Stormont mismanagement and profiteering.
"Lough Neagh, the proximity of the toxic Mobuoy Dump to Derry's drinking water and the overall state of our rivers calls for urgent action that Derry and Strabane Council should help to lead.
"Lough Neagh's absentee private owner, the Earl of Shaftesbury, has profited from destructive practices – but all the main parties are complicit in the killing of Lough Neagh and the poisoning of our waterways.
"Stormont's agri-business "going for growth" strategy has ratcheted up pollution.
"Raw sewage has been pumped directly into the lough.
"Industrial sand dredging has destroyed the lough's ecosystem.
"Opportunities to protect the lough were missed over and over again.
"No one stood up to the DUP's aggressive promotion of "going for growth" because it was great for profits.
"Sinn Féin could have taken action a decade ago but allowed business as usual to continue.
"The SDLP had a more recent opportunity to block further destructive industrial dredging but opted to put profiteering first by greenlighting its continuance.
"We need an immediate action plan to save Lough Neagh. This must include ending private ownership.
"Government departments complicit in the crisis at Lough Neagh can't be trusted to save it.
"We need to listen to local residents, the Environmental Justice Network Ireland, Friends of the Earth and others on its future management."
People Before Profit Cllr Shaun Harkin's motion to the Wednesday September 27 full meeting of Derry and Strabane Council:
"This Council agrees that the current management of Lough Neagh is unsustainable and has led to significant damage to this culturally, socially, environmentally and economically significant resource.
"The lough itself and the surrounding communities are now suffering the consequences of this failed management system.
"This Council agrees that the environmental disaster happening in Lough Neagh is unprecedented and calls for unprecedented action.
"This Council understands that a rights of nature approach may be used to inform the design of governance frameworks that are capable of producing better outcomes for the environment and communities of Lough Neagh.
"This Council will call an urgent meeting of all Councils in the North with QUB School of Law and FOE NI to explore the potential of legally recognised Rights of Nature for Lough."
Tags: