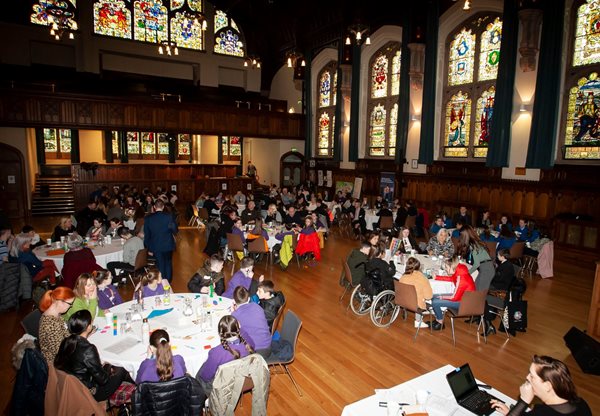 Youth workers in the Derry City and Strabane District Council area are being urged to get involved in the preparations for a special engagement event with local young people next month.
The 'Your Say' Child Rights event will take place in the Guildhall on Friday October 6th from 10am to 2.30pm as part of the Council area's journey towards achieving UNICEF UK Child Friendly City and Community status.
The event is an opportunity for young people to learn more about their rights and the United Nations Convention on the Rights of the Child and to speak to key decision makers in the City and District about what is important to them.
In preparation for the event, local youth organisations and services are being urged to host Your Say workshops in their own community where young people can begin to discuss the themes of the main event.
"The 'Your Say' Child Rights workshops will take place in local communities so that young people can become more aware of their rights and prepare for the main event in their existing safe space," explained Children and Young People's Coordinator Claire Lynch.
"We are looking for youth workers from across the city and district to deliver the one hour workshops to young people aged 10-18 to maximise the reach of the event on October 6th and strengthen the partnership approach with our local community and voluntary sector organisations.
"We have an existing network of organisations already committed to deliver this work and support our UNICEF UK Child Friendly Cities and Communities initiative.
"This open call aims to increase that reach and strengthen the partnership approach with local community and voluntary sector organisations."
Michaela O'Hagan, Youth Services Manager, Bogside and Brandywell Health Forum, who have taken a leading role in the partnership to organise the activities urged other organisations to get involved.
"We are delighted to be involved in the upcoming 'Your Say, Child's Rights' event on the 6th of October," she said.
"This is an opportunity for the young people within our communities to have their voices heard and to help influence and shape change within their own communities.
"As Derry City and Strabane moves towards becoming a more child-friendly city within UNICEF and the UN Convention on the Rights of the Child (UNCRC) framework, this event will highlight the brilliant partnership-work, showing how agencies can come together to support the needs of children and young people.
"Article 12 of the UNCRC, says that every child has the right to express their views, feelings, and wishes in all matters affecting them, and to have their views considered and taken seriously.
"It says that the opinions of children and young people should be considered when people make decisions about things that involve them; Their opinions shouldn't be dismissed out of hand on the grounds of age.
"We are delighted that the 'Your Say, Child's Rights' event embodies the spirit of the UNCRC and will provide a platform for young people.
"I look forward to hearing from all the young people on the day, sharing their opinions on the UNCRC, their views on which articles are important to them, and what impact these articles have on their lives now, and will have in the future."
Youth workers who sign up will receive a child rights workshop briefing session and a session plan to support them in delivering the workshop.
As a local youth worker taking part in the initiative, you will have to identify between 2 and 5 young people to attend the event on October 6th, with one to two of these should want to share their Child Rights Statement on the day.
Any youth workers who want to get involved in delivering the workshops within their organisation must submit an Expression of Interest form by Thursday September 21st 2023.
The forms can be downloaded on the Council website at www.derrystrabane.com/childrightsworkshop where full details of the Your Say initiative are available.
Tags: