Dunfanaghy Golf Club in north Donegal, a leading supporter of local community initiatives, is thrilled to announce the 24 for 24 Golf Challenge!
Taking place on Friday, June 23rd, and Saturday, June 24th, 2023, this unique event aims to bring together golf enthusiasts from all walks of life to raise funds for three deserving charities: The Creeslough Disaster Fund, The Alzheimer Society of Ireland, and The Irish Society for Autism.
The 24-Hour Golf Challenge is an extraordinary endurance event that will see 24 dedicated participants strive to complete an unrelenting golf marathon.
Starting at 10.00am on June 23rd, the participants will embark on a non-stop golfing journey, playing through the day and night until the final putt is made at 10.00am on June 24th. Each participant will undertake this remarkable challenge while supporting the selected local charities.
"We are immensely excited to introduce this 24-Hour Golf Challenge to our community," said Tony McGilloway, President at Dunfanaghy Golf Club.
"This event not only provides an exceptional opportunity for golf enthusiasts to showcase their endurance and passion for the sport but also enables us to give back to our community by supporting three worthy charities. We believe in the power of sports to unite people and make a positive impact, and this event is a testament to that belief."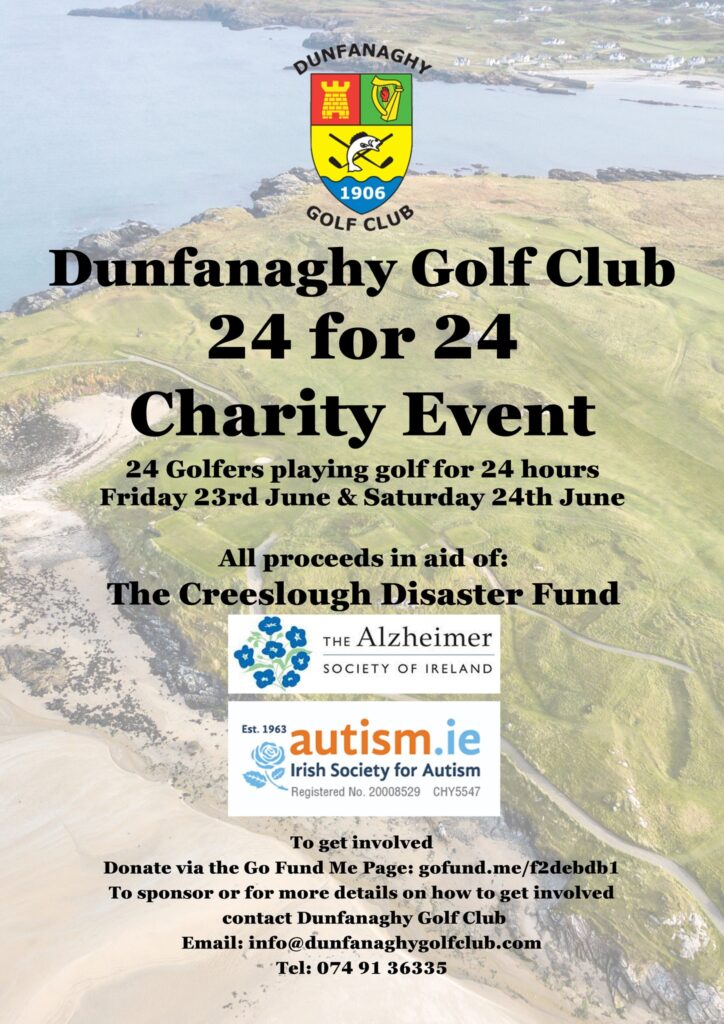 The funds raised from the 24 for 24 Golf Challenge will be evenly distributed among the three chosen charities: The Creeslough Disaster Fund, The Alzheimer Society of Ireland, and The Irish Society for Autism. By participating in this event, not only will the participants be pushing their golfing limits, but they will also contribute to the betterment of our community.
Local businesses and individuals are encouraged to show their support for the 24 for 24 Golf Challenge by sponsoring a participant, making a donation at gofund.me/f2debdb1 or volunteering their time during the event. This is an excellent opportunity for businesses to align themselves with a meaningful cause and gain exposure in the community. Furthermore, volunteers will play a vital role in ensuring the smooth operation of the event and creating an unforgettable experience for the participants.
To learn more about the 24 for 24 Golf Challenge, make a donation, become a sponsor, or volunteer, please visit www.dunfanaghygolfclub.com or phone 00353 7491 36335
Dunfanaghy Golf Club would like to extend its sincere gratitude to the community, local businesses, and individuals for their support in making this event possible. Together, we can make a lasting impact on the lives of those in need and strengthen our community bonds through the spirit of golf.
Check out some celebrity endorsements received by the club below:
Tags: