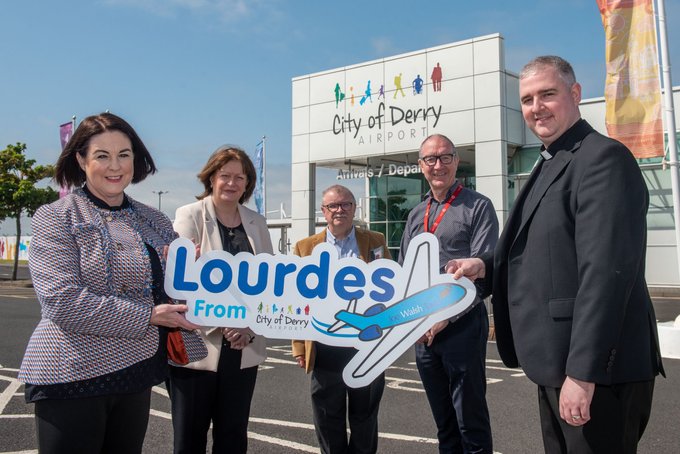 City of Derry Airport is preparing to welcome pilgrims from across Derry and the county, Donegal and beyond as Joe Walsh Tours is running 4, 5 and 6 night fully escorted tours to Lourdes from the Northwest this summer.
The Raphoe Diocesan will travel on the first service taking off on Tuesday 23rd May, followed by the Derry Diocesan on Monday 3rd July, and a classic pilgrimage, available for anyone who would like to travel to Lourdes, will be departing on Friday 7th July.
The pilgrimages will follow a full religious programme facilitated in conjunction with the local Diocese, and the full services of Joe Walsh Tours guides and representatives will be available throughout.
David Walsh of Joe Walsh Tours commented: "We are delighted to offer pilgrims in the Northwest region a selection of tours to Lourdes this year flying directly from City of Derry Airport.
"Its great facilities and pilgrim friendly atmosphere make it a fantastic addition to our tours for 2023."
Steve Frazer, Managing Director at City of Derry Airport, also expressed his delight as this new offering: "We are thrilled to partner with Joe Walsh Tours to offer this very special travel experience for the Northwest.
"The team at Joe Walsh Tours are absolute experts in what they do, and we have no doubt that everyone travelling to Lourdes from City of Derry Airport this summer will enjoy a truly unique and memorable trip."
Brenda Morgan MBE, Head of Business Development at City of Derry Airport, added: "We are proud to provide those travelling, particularly any elderly passengers, with the convenience of flying local, reduced travel time and cost, and an efficient journey through the Airport.
"With single level access and less than 15 mins from our carpark to our departure gate, our passengers can really enjoy a relaxing and stress-free start to their spiritual retreat."
Package prices start from £745pp sharing, and include direct return flights and airport taxes, 20kg check-in luggage, airport transfers and assistance between Lourdes Airport and the hotel accommodation provided, and 4-6 nights' full board accommodation.
For more information on Joe Walsh Tours' Pilgrimages to Lourdes from City of Derry Airport, visit: www.joewalshtours.ie
Tags: