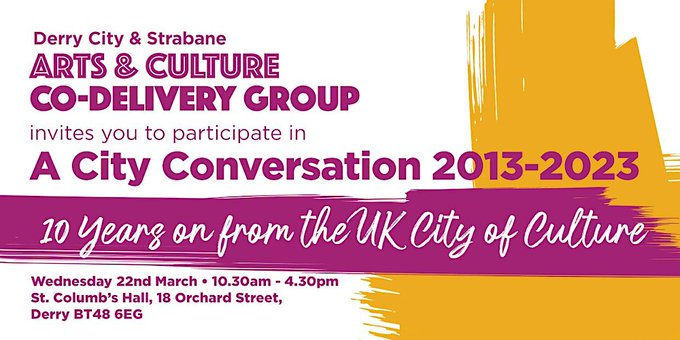 Derry City and Strabane District Council's Arts & Culture Co-Delivery Group will host a special discussion event reflecting on its Arts & Culture sector in the 10 years since the City secured the first ever UK City of Culture designation in 2013.
A City Conversation will take place on Wednesday, March 22, in St Columb's Hall.
In an open invitation to the public, Steve Batts, Cultural Partner of the Co-delivery group said – "It is now 10 years since Derry's year as City of Culture.
"It brought a significant investment of resources and energies to our Arts & Culture sector. Now is a good time to reflect, look at where we are at and consider what the future might hold.
"We are inviting artists, organisations, venues, audiences and volunteers to share their thoughts and energies as part of an open, inclusive, honest and constructive City Conversation about arts and culture.
"This conversation will enable us to reflect together on what we have learned and to begin to articulate where we go from here.
"We hope that it will help to inform the cultural strategies that are currently in development by the Arts Council of Northern Ireland and the Department for Communities.
"We also hope it will positively influence the content of an event, reflecting on the City of Culture process after its first ten years, planned by the UK Department of Culture Media and Sport, which is to take place in Derry in September 2023."
Mayor of Derry City and Strabane District Council, Councillor Sandra Duffy, speaking about the arts and culture sector, said: "The last ten years have been challenging across all of our sectors.
"A strong arts and cultural sector is a vital component of a healthy society impacting on our individual and collective well-being as well as social and economic prosperity.
"We have a vibrant sector with local and international reach but there is no doubt there are challenges and we must be together and ready to make the most of our strengths and any opportunities as they arise.
"Just as arts and culture is for and by everyone, I would encourage anyone with an interest to come along to this event, share your thoughts and ideas and hear what others have to say."
Encouraging people of all ages to sign up for the event, Cath McBride, Cultural Partner on the Arts & Culture Co-delivery Group said:
"The whole City remembers 2013, we are aware that some of our young people and artists would have been very young at the time but they are a vital voice in this conversation.
"This invite goes out to all ages and to anyone with an interest in the future of our arts and culture sector from gig-goers to promoters, artists and audiences, organisers and participants, venues and volunteers.
"Representatives of the sector will share their experiences of City of Culture's legacy throughout the day but we have deliberately planned the event so that the focus is on encouraging conversation and hearing from attendees."
A City Conversation 2013-2023 takes place on Wednesday, March 22, in St Columb's Hall.
The event is free but registration is essential.
For more info & to register at: https://www.eventbrite.co.uk/e/a-city-conversation-2013-2023-tickets-542651574467
Or contact [email protected] / 02871 253 253
Tags: