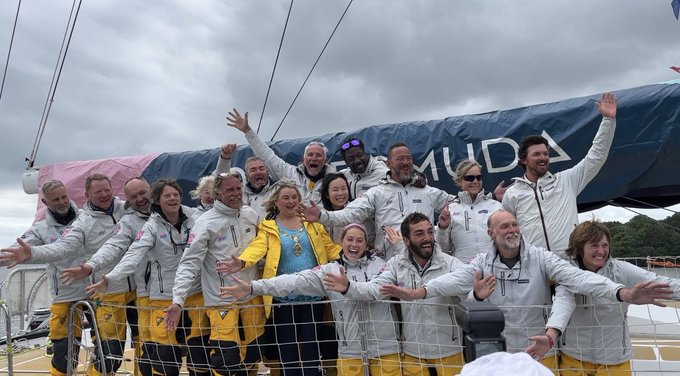 The Mayor of Derry City and Strabane District Council, Councillor Sandra Duffy, led the welcome party yesteray for the Clipper Round the World Yacht Race fleet as they made the journey up the Foyle for their stopover in the City a day early and in good time for the Foyle Maritime Festival which begins next week.
The first of the boats to arrive in the City was the GoToBermuda and crew, which arrived just before 10:30 am to rapturous applause on the quayside.
Eight of the eleven yachts had arrived by teatime, and Derry crew man Gerard Doherty received a hero's welcome as he arrived on board the Ha Long Bay Vietnam just after 5pm to be greeted by family and friends in an emotional reception on the pontoon.
This is the fifth time the City has been part of the Clipper Race global challenge and while the current Race started back in 2019, it was postponed for two years due to the Covid-19 pandemic, and restarted again in March 2022.
Welcoming the crew as they arrived today, Mayor Duffy said it had been an exciting day which has set the scene for a fantastic Foyle Maritime Festival celebration running from July 20-24.
"It's been fantastic finally meeting the crew as they completed this challenging part of their journey, crossing the Atlantic in what's become known as the LegenDerry Finale race.
"The city is renowned for the warmth if its welcome and Derry is a favourite host port with the crew, who have already been enjoying some of our world famous hospitality today.
"It's just the beginning of what promises to be an amazing two weeks for the City and District.
"We have the LegenDerry Food Festival kicking things off on the quayside this weekend, and then on Wednesday July 20th we see the start of our official Foyle Maritime celebrations.
"Friday the 22nd is our spectacular 'What Lies Beneath' Showcase event, before we finally say farewell to the Clipper Race crew on Sunday July 24 in a stunning Parade of Sail.
"It's going to be a fantastic few weeks!"
The Foyle Maritime Festival is led by Derry City and Strabane District Council with support from Tourism NI, Foyle Port and the Loughs Agency.
Find out more about all that's happening at: foylemaritime.com
Tags: