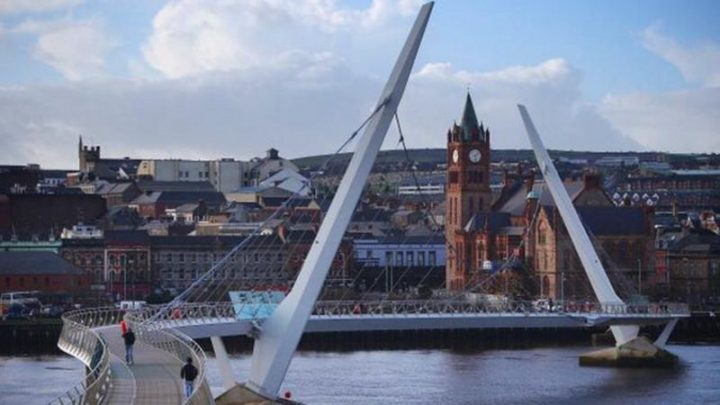 Derry City and Strabane District councillors have unanimously supported a motion inviting academic experts from the Royal Irish Academy to share their views on expanding university provision in the North West.
Independent Councillor Sean Carr tabled a motion saying the council commends the Royal Irish Academy (RIA) taskforce's focus on the North West and its blueprint for developing "meaningful university provision" in this city-region on a cross-border basis.
He suggested setting up a special meeting in the near future to hear their views.
"Given the magnitude of these proposals, and the potential benefits to this city-region emanating from them.
"This Council invites RIA into a relevant committee meeting to hear how its plans for the North West can be most successfully progressed," he added.
RIA is an independent, all-island learned society established under Charter in 1785.
It has approximately 600 members, chosen for their distinguished contributions to scholarship and research in the sciences, humanities, social sciences and public service.
Membership is by election and considered the highest academic honour in Ireland.
The RIA's Higher Education Futures Taskforce has noted that the priority afforded to the region from central governments in both jurisdictions has been sporadic and reactive, driven by local political pressures rather than the result of coherent strategic planning.
It stated: "This is particularly true of Northern Ireland where higher education investment and development in Belfast appears to have been given precedence over developments at either of Ulster University's north-west campuses."
The Department for the Economy has no higher education strategy other than to say it will continue to invest in Belfast, Derry and Coleraine campuses.
The RIA report concluded: "Without a cross-border planning model based on all of the institutions and campuses of FE and HE provision in the north-west region, and whose primary focus is its enhancement based on needs and opportunities independent of the priorities of the capital cities in both jurisdictions, the north-west cannot attain its full potential in a sustainable way.
"This accords with a case study example outlined in a recent statement by the Secretary of State for Northern Ireland citing the potential of a cross-border university to address historic under-investment in the north-west region in accordance with the UK Government's 'levelling up' agenda."
SDLP councillor Rory Farrell said he agreed with RIA's analysis of disparities across the higher education sector and the island, particularly the lack of provision in the North West.
"We know, we've been saying this for 57 years in fact, we know that resources need to be distributed in a more even and more fair geographical basis and it's an absolute scandal that 80% of the university places in the north are in Belfast," he said in support of the proposal.
"We know there need to be a re-alignment, we know that this needs to be re-imagined, they are preaching to the converted.
"We have a government commitment to deliver 10,000 students at Magee. It hasn't been realised and it's not going to be realised any time soon."
People Before Profit councillor Shaun Harkin described the report as "refreshing" and said he loved their phrase about the North West becoming a "region of learning".
The Foyleside representative added: "If you have a first-class education institution you attract enterprise, you can improve public discourse, you can provide world-class research facilities and you can nurture the humanities, science and everything else.
"I'm all for having them in to present for us."
The trials and tribulations of Magee expansion are well-documented, he said, and the council's corporate policy is to consider all higher education options.
Ulster University is a major beneficiary of the City Deal and he said "absolutely no direction comes from Stormont" about university expansion in Derry.
He thanked the Derry University Group for bringing the RIA report to the attention of the wider public.
Sinn Fein Councillor John McGowan said he was happy to support the motion and Finance Minister Conor Murphy has given assurances about setting up a taskforce that will explore university expansion in Derry.
"The previous speaker mentioned it wasn't a priority of Stormont before. Well that ministry's held by the DUP and has been for the last 10 years so that doesn't surprise me that the university hasn't been a priority.
"I'm very happy that we could bring the RIA down, I know they are a well-respected group of academics, and I would be very interested to hear what they have to say."
However, he said there is "a lot of stuff going on in the university" at the moment and maybe they could provide insight.
There has been the development of the "cross-border cluster", he said, which has been led by Ulster University in Derry which includes the Atlantic Technological University and they're sharing research.
He also pointed to the new school of medicine and health science courses moving in September.
Those courses will take the university back up to the number of students it had in 2015 — 5,098 (3,833 full time) — before courses were stripped away.
Rachael Ferguson of Alliance also backed the motion saying the city needs to become competitive in terms of university provision.
After a meeting with UU Vice Chancellor Paul Bartholomew she came away with the message that Derry needs to be "positive" that it is a "university city", Cllr Ferguson said, while accepting student numbers are "nowhere near" the 10,000 commitment in New Decade, New Approach.
Independent Councillor Gary Donnelly said Derry is losing some of its brightest young people because of the brain drain.
He supported building an autonomous university and establishing an "independent scrutiny body to stop Belfast swallowing up" most of the student places here.
Tags: