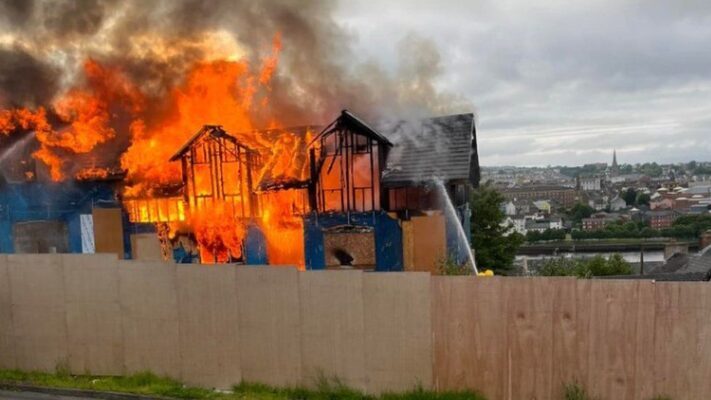 Police in Derry investigating a fire at Dunfield Terrace in the Waterside area are appealing for witnesses and information.
The blaze at the site of a number of unfinished houses was reported at around 8.10pm.
Police attended the scene to control traffic and allow NIFRS to safely access the scene.
Inspector Swanson said: "This was a significant blaze. Thankfully, there have been no reports of anyone being injured.
"If not for the work of the NIFRS, however, the outcome could have been different for residents in the immediate area and their homes.
"As enquiries in relation to the cause of the blaze continue, we're appealing to anyone who was in the area from around 8pm and saw any suspicious behaviour, or has information which could assist our enquiries, to get in touch."
The number to call with information is 101, quoting reference number 1784 of 21/06/22.
Alternatively, you can submit a report online using our non-emergency reporting form via: http://www.psni.police.uk/makeareport/
You can also call Crimestoppers anonymously on 0800 555 111 or online at: http://crimestoppers-uk.org/
Previously, a residents group held a series of protests at the site over safety concerns and instances of anti-social behaviour.
Building work stopped at the Dunfield site more than three years ago.
Some residents had called for the derelict buildings to be demolished, saying they were an eye-sore, and were being used for drug taking and other anti-social behaviour.
Felicity McCall, from the Dunfield Residents' Association, said the fire had "realised some of our worst fears and concerns".
"We have had huge concerns about the site," she told BBC Radio Foyle on Wednesday.
"It would be wrong to pretend we did not want those buildings brought down but nobody could have wanted it to happen this way."
She said over recent months the level of anti-social behaviour at the site had increased.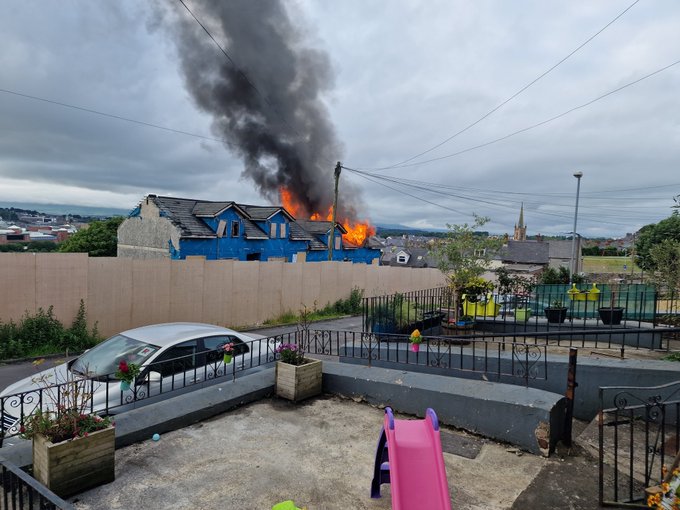 "We have always been very afraid that nothing would be done until someone was seriously injured or worse," she said.
Speaking from the scene on Tuesday evening, SDLP councillor Sean Mooney said both the police and appliances from the Northern Ireland Fire Rescue Service (NIFRS) attended the incident.
"The is not the first time this has happened at the site," he told BBC News NI.
"There was a small fire there last night as well, but not as severe as this one I am looking at just now, the whole roof is completely on fire."
Tags: