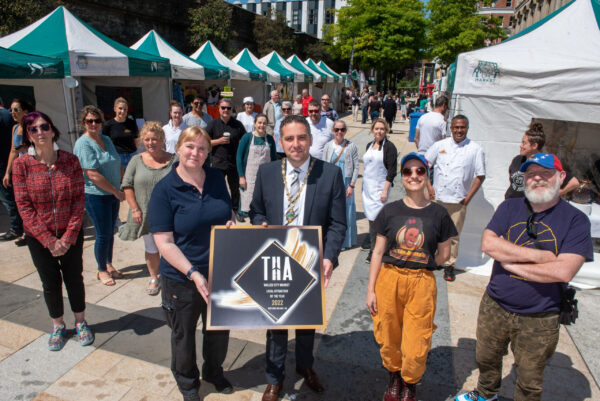 Local traders and Council officers had a spring in their step at the monthly Walled City Market at the weekend as they celebrated their recent recognition in the Travel and Hospitality 2022 European Travel Awards programme.
The event, which takes place on the first Saturday of every month in Guildhall Square, was awarded the Local Attraction of the Year for 2022 based on uniqueness, quality of services and facilities and exceptional levels of customer care.
Outgoing Deputy Mayor of Derry City and Strabane District Council, Councillor Christopher Jackson, attended last Saturday's market to congratulate them on their prestigious recognition.
The Market was selected as one of the winners from over 22,000 nominations, with the team at Travel and Hospitality Awards saying that the chosen winners 'reflect the very best in travel and hospitality standards'.
Mayor of Derry City and Strabane District Council, Councillor Sandra Duffy, congratulated all those involved in the Market's success.
"It has been great to see the Walled City Market back in its full format in recent months and that local traders and crafters can showcase their unique offering to the public again in Guildhall Square," she said.
"The market offers an ideal platform for the best of local food and craft and it wouldn't be possible without the fantastic traders that we have operating at the WCM each month, offering a wide range of the very best products.
"Whether it's legenderry food or unique gifts, there's always so much to enjoy for locals and visitors alike."
If you would like to trade at the Walled City Market or at the Strabane Market, you can fill out the application form available at: https://www.derrystrabane.com/Subsites/Walled-City-Market/Get-Involved
Next month's Walled City Market will take place in Guildhall Square on Saturday, July 2, from 11 am to 5 pm.
Tags: