The one-time US presidential candidate revealed she was a big fan of the hit Channel 4 sitcom.
Mrs Clinton's daughter, Chelsea, delighted viewers in the final episode, broadcast last month, as she opened a letter from main characters Erin, Clare, Orla, Michelle and James.
The extended special, which followed the series three finale, followed the cast in 1998 as they voted on the Good Friday Agreement — a poignant episode that earned show creator Lisa McGee critical acclaim.
Viewers watched the teenagers deciding whether to vote in the landmark referendum that helped deliver eventual peace to the North of Ireland and is seen by many as the end of the Troubles.
The Clinton family are well known for their involvement in the Northern Irish peace process and have strong ties with the country.
The show previously made reference to Bill Clinton's 1995 visit to Londonderry in the series two finale.
Speaking to The Shields Gazette while on a visit to North East England, Mrs Clinton said: "I think [the show] is spot on. I think it is glorious. It is so funny and so clever and so smart. I am a huge fan."
But Mrs Clinton revealed she has to wait for the TV show's big ending, as series three has yet to air in the US.
"I'm told I'll have to wait until December," Mrs Clinton said, adding: "Perhaps I'll be able to see it while I'm here."
In the scene at the end of the final episode, a postman delivers an envelope to present-day Chelsea Clinton and explains that the letter had been intercepted while on its way to the White House in the 1990s.
In the note, the teens had asked her if she would like to "hang out" with them when she arrives in Northern Ireland with her parents, adding: "If they're anything like our parents, well, you'll be bored out of your tree."
The letter, which the main characters wrote in the series two finale, is signed off with: "We think your hair is absolutely cracker."
The scene was based on McGee's own experiences. Speaking to the New York Times, the writer revealed that she had written to Clinton herself when she was 13 years old… "She never replied," added McGee.
"The innocence of that: living in this place that's violent and scary, but we were these eejits running about writing letters to Chelsea Clinton."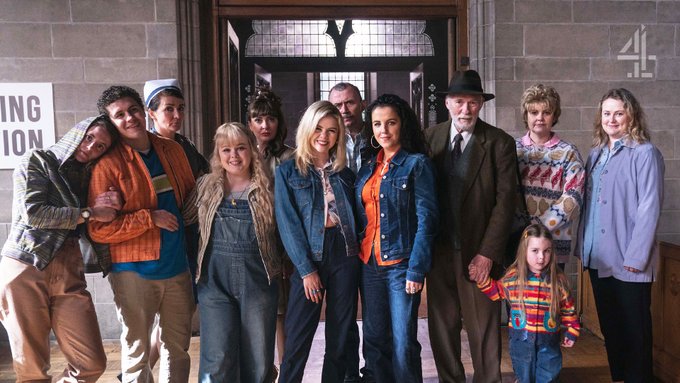 Mrs Clinton was the guest at the annual South Shields Lecture organised by former MP David Miliband, which was held at Harton Academy on Friday.
She shared her views on Brexit, particularly in NI, saying that it had put the Good Friday Agreement "in peril" and risked a return to violence, which would be a "tragedy".
Asked how to defeat her 2016 presidential opponent, Donald Trump, should he seek a return to the White House in 2024, she said it would be "very difficult" and that "a campaign against him needs to have started yesterday and, if not, then at the latest today and tomorrow."
Mrs Clinton, who was also a senator before serving as Barack Obama's secretary of state, closed by telling the crowd that she remained optimistic about the world's future and that being so was necessary as "we are in a struggle for this future we share".
Tags:
Hillary Clinton has described Derry Girls as "glorious", adding that she has yet to see her daughter's cameo appearance in the series' extended special.