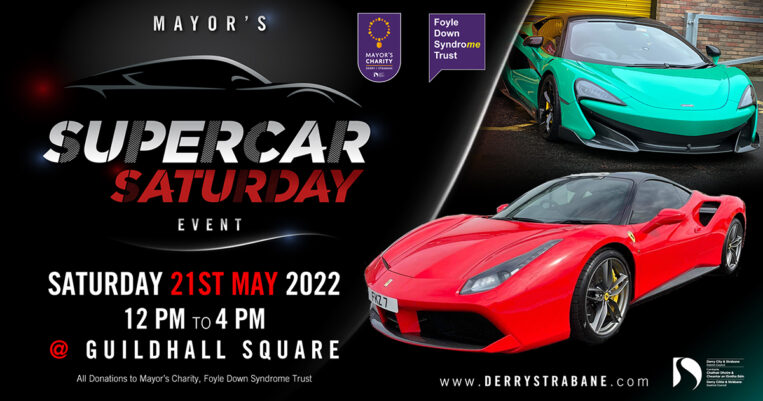 An array of world class cars will gather in the heart of the City on Saturday May 21st in a special event hosted by Mayor of Derry City and Strabane District Council, Alderman Graham Warke.
Supercar Saturday from midday to 3pm will allow the public to get up close and personal with over 30 top level cars in Guildhall Square and Harbour Square with all funds raised going towards the Mayor's charity the Foyle Down Syndrome Trust.
The event is being led by car enthusiasts Gary McCaul and Keith Gamble and the fleet will include supercars such as Lamborghinis, Ferrari and McLarens together with American Muscle cars such as Corvette and the Ford Mustang.
"I'm so excited to see the return of this event which is the second time we have hosted it during my Mayorality following a successful gathering before Christmas that raised thousands of pounds for my charity," he said.
"Just recently at the Bear Run event around the Council area and Donegal I saw first-hand the excitement and delight these magnificent vehicles generate with the public so I'd encourage you to come along next week to see them for yourself.
"I'd only ever seen many of these cars on TV and in films however to physically experience them for the first time this year is something I will never forget.
"As my term in office draws to a close, I want to make one final push for people to donate to my charity, the Foyle Down Syndrome Trust, who do so much positive work across the City and District."
Event organiser Gary McCaul added: "We're delighted to showcase this event in the heart of the city centre bringing exotic and extremely rare sports cars to the North West.
"Most importantly we are delighted to support Foyle Down Syndrome Trust where young people from the service will be involved in the event planning and participate on the day."
All donations will be hugely appreciated so please donate what you can.
Donations can be made on the day to Foyle Down Syndrome Trust or you can donate online at: https://bit.ly/MWCharity
Tags: