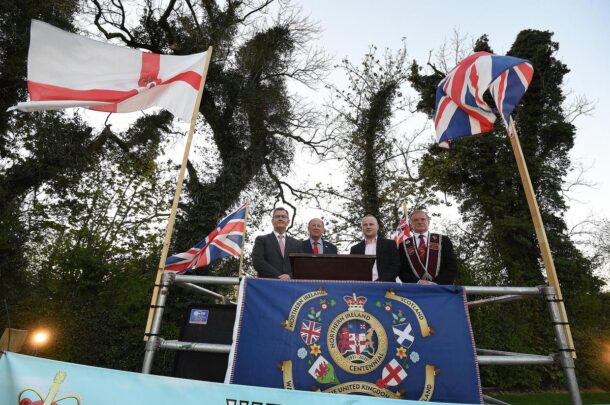 Loyalist Jamie Bryson has warned dissident republicans that against any "attack" on his community.
He told a rally in Derry that such an attack "would have significant, and ultimately unwanted consequences, but consequences nonetheless".
The statement was made at an anti-Protocol rally in Newbulidngs attended by DUP leader Sir Jeffrey Donaldson, TUV leader Jim Allister, PUP councillor Russell Watton, and a crowd of around 500.
A band parade made its way through the village before speeches by Bryson and the politicians.
Bryson was responding to threats made over Easter by dissident group ONH (Oglaigh na hEireann), which vowed to target loyalist leaders if republicans are attacked.
Masked and armed members of the gang told a commemoration in Belfast: "We continue to monitor the activities of the UVF and UDA in light of recent actions, and if loyalists target republican and nationalist communities, we will target loyalist leadership figures."
In his Newbuildings speech on Saturday evening at the North West United Unionists event, Bryson described ONH as "delinquents", who "armed with automatic weapons, issued threats towards the unionist and loyalist community".
He added: "These people should stop issuing threats not only against loyalists and unionists, but against their own community who they seem to torture and bully more than anything else.
"These so-called dissidents, so prevalent in Londonderry and beyond, are little more than thugs, drug dealers, petty criminals and informers.
"Unionism and loyalism has made no threats to anyone from the nationalist community, and indeed any such threat would be wrong."
Bryson's warning, coming just days after the ONH threats, will cause further concern in government and security circles.
The dissident gang ONH – which has said it could target loyalist leaders – remains active despite being officially on ceasefire.
Last year it murdered former member Danny McClean in north Belfast.
The killing came less than 12 months after ONH gunned down Kieran Wylie – another ex-member – at his west Belfast home.
In his speech at the anti-protocol rally, DUP leader Sir Jeffrey Donaldson urged unionists to "vote in strength" in the Stormont Assembly election to send a message of opposition to the Protocol.
He warned those gathered in Newbuildings: "Make no mistake, Sinn Fein winning this election will send a message to Dublin and Brussels, that it's business as usual with the protocol. Unionists must use their transfers to support other pro-union candidates.
"Unionists need to vote in strength and for strength when it comes to the protocol."
Mr Allister urged unionists to "come out in strength" on polling day.
"For decades unionists have lived with the fear of constitutional change. That was what the IRA's campaign of terror was all about. Rightly unionists resisted these violent and anti-democratic efforts," he said.
"With the protocol, however, we now have the reality of constitutional change. As the recent ruling by the Court of Appeal shows, the Acts of Union have been 'subjugated' by the protocol.
"There has been a transfer of sovereignty with laws made not in London or Belfast but in Brussels. Laws we do not make and cannot change. Particularly on the mouth of an election that is something which should cause all democrats to pause and think.
"Unionists need to come out in strength on polling day and vote in strength and for strength in opposing the protocol."
Tags: