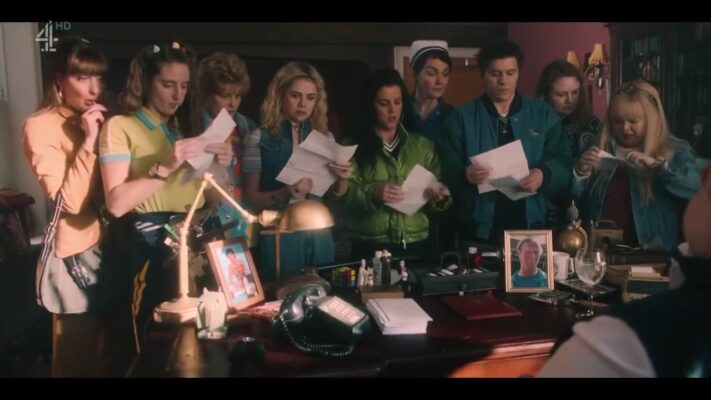 The first episode of Derry Girls' third and final season brought in more than 300,000 viewers from across the North of Ireland on Tuesday night.
This made it the most watched show on Channel 4 here since the series 2 finale in 2019.
The long-awaited launch brought with it everything fans expected, as well as a few surprises.
From a mischievous Seamus the Cat, a police interrogation of the five friends — Erin, Clare, Orla, Michelle and James — and a special cameo from none other than North Antrim star Liam Neeson, the final series certainly started off with a bang.
And the ratings show that the hit comedy has retained its loyal viewers despite an almost three-year hiatus due to the pandemic.
Figures released by Channel 4 show that, across the UK, 1.6m people watched the opening episode. The overnight figure excludes people watching it on catch up or streaming.
Derry Girls is also the most watched Channel 4 show in that time slot for the 16 to 34 age group.
In 2018, Channel 4 revealed that Derry Girls had become the biggest series ever in Northern Ireland since modern records began in 2002. It had an average of 519,000 viewers here and a 64.2% share of the audience.
It reached 54% of the North's TV audience, including 65% of 16 to 34 year-olds.
Across the UK, consolidated viewing figures reveal that the first series of Derry Girls was watched by an average of 2.5m viewers, making it Channel 4's biggest comedy launch since 2004.
As the first episode of series 3 wrapped up on Tuesday evening, fans took to Twitter to exclaim that "30 minutes is not long enough".
Following the episode Lisa McGee explained it was an "honour" to have Ballymena man Neeson in the episode.
"Thanks for watching lads. Our code name for Liam during the shoot was 'the big fella' arguably quite an easily cracked code," she wrote. "What an honour to have him in our wee show. Our very own Northern Star."
Derry Girls returns next Tuesday, April 19, at 9.15pm on Channel 4.
Tags: