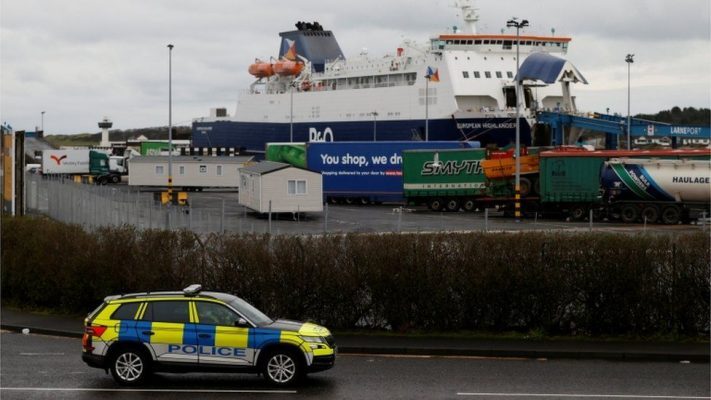 DUP Minister Edwin Poots' directions to halt Irish Sea border checks will be suspended, the High Court has ordered.
Mr Justice Colton confirmed inspections on goods entering Northern Ireland from Great Britain must continue pending the outcome of legal challenges.
Agriculture Minister Mr Poots had ordered his officials to halt Irish Sea border checks on Wednesday.
He had threatened the action as part of the DUP's ongoing opposition to the Northern Ireland Protocol.
The protocol was agreed by the UK and EU to ensure free movement of trade across the Irish land border after Brexit.
But unionist politicians have been critical of the arrangements, saying they are damaging the North of Ireland's place in the UK.
The High Court development came on Friday as an unidentified member of Sinn Féin and a second applicant named Edward Rooney.
Mr Justice Colton said: "There shouldn't be any doubt or confusion hanging over those civil servants who have to comply with the law.
"I propose to make an order, suspending the order or instruction given by the Minister for Agriculture until further order of this court or completion of these proceedings."
Checks on goods along the Irish Sea border have continued despite Mr Poots' order, Downing Street said on Thursday.
The British Prime Minister's spokesman said checks were continuing, and that "we are reviewing the legal position".
Paul Givan also announced his resignation as First Minister on Thursday.
The move was also part of the DUP's protest against the protocol.
Tags: