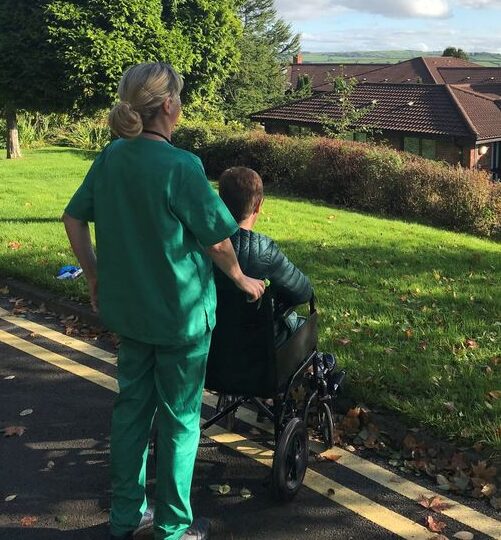 HOSPICES in the North of Ireland are treating patients who are younger, and sicker, for end-of-life care as Covid-19 pressures continue.
Derry's Foyle Hospice has cared for patients in their 30s who have died in the past six months.
Michelle Kosky offers grief counselling at the hospice for children from the age of four to 16.
"I have definitely noticed an increase of younger parents coming through for end-of-life care," she told BBC News NI's reporter Sara Girvin.
"I've been involved with quite a few younger parents who have terminal illnesses – and very young children who are about to lose a parent."
Restrictions on hospice visiting and funeral attendance have also been damaging for children preparing to say their final goodbyes, said Ms Kosky.
"Pre-bereavement, we only have one chance to get it right and have those difficult conversations: 'Should my child go to the funeral, should my child go to the wake?'
"It is a very important part of their grieving process," she added.
"If you think of a five-year-old and mum has died, where has mum gone?
"How do they concrete the fact that mum has gone because children at five don't realise that death is irreversible.
"So attending the wake, and seeing mum, and knowing that mum was in the coffin and mum has been buried, it's important in the storytelling for children, and it's important in the grieving process."
Ms Kosky became involved in counselling at the hospice after suffering her own loss.
Her husband died in a road accident and she had to tell the heartbreaking news to their children.
Recent deaths at the hospice had been difficult for staff, she said.
"We can all relate because maybe we have a sister in her 30s, or maybe for some of the nurses they're the same age and it does make you think.
"I remember identifying with a family and wondering how they were going to tell their children, and then two weeks later I was telling my own.
"Losing someone you love is the hardest thing that we're ever going to do. But losing someone young just doesn't seem right, does it?"
Tags: