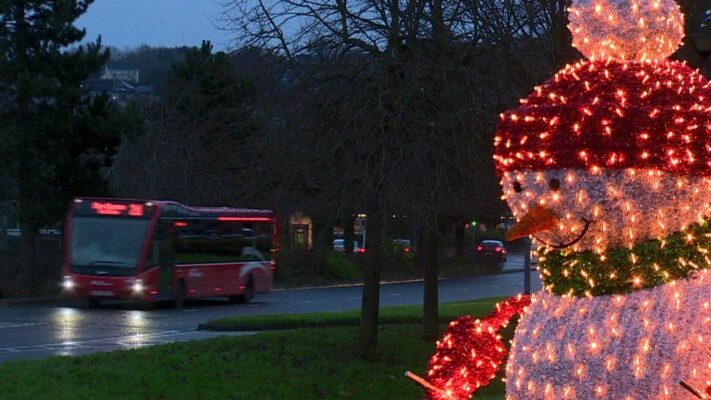 THE provision of extra late night bus and train services in the lead up to Christmas has been welcomed as the North struggles with a shortage of taxis.
The Nightmovers service includes extra buses and trains in Derry and Belfast and a number of other urban routes across Translink's network.
Some weekend services are now departing up to midnight and slightly beyond on both Friday and Saturday nights.
The new timetable will run until Saturday, December 18.
It's the first time the Nightmovers service is operating in Derry.
The extra services include:
Foyle Metro in Derry is running extra buses at 10 pm, 11 pm and midnight along four routes on Fridays and Saturdays
Seven Belfast Metro routes which are operating special midnight departures on Friday and Saturday nights only
Translink's Goldline coach service is providing midnight departures from Belfast along seven routes including Derry; Downpatrick; Newcastle; Newry; Larne; Dungannon and Newtownards
Park and ride services will also open longer for late-night shoppers
The return of the temporary service has been welcomed by members of the public and people working in the night-time economy, as it has become increasing difficult to book a taxi, especially at the weekend.
The outbreak of Covid-19 has significantly affected the local taxi industry.
The North-West Taxi Proprietors organisation said there are currently about 8,500 drivers with a taxi licence in Northern Ireland – but only 5,000 to 6,000 are currently working.
It is estimated that about 30 per cent of taxi drivers opted out of the industry during the pandemic.
Translink's director of service operations Ian Campbell said they did look at the possibility of running extra services past midnight into the early hours of the morning to help get people home.
"We did consider that… but at the minute we're operating these services within our existing resources," he said.
"That does depend very much on the good will of our staff to stay on and commit to work these services."
Mr Campbell added that Translink's resources had been targeted "in line with where we believe the demand is".
"It's also fair to say that the pandemic has had an impact on public transport," he added.
"We're currently operating 100% of our services, but carrying only 70% of our pre-Covid level, so we're trying to match the service offering and match our resources to what we believe is the current demand."
Tags: