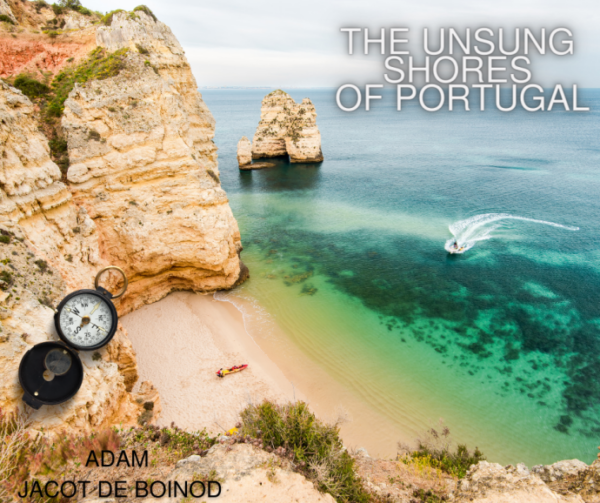 BY ADAM JACOT DE BOINOD
Imagine stretches of empty beach for miles on end. It's all here to discover, beyond and above the ever-popular part of the Algarve along a wilderness of coastline here on the very last south-western extremity of Europe.
From Drive On Holidays (www.driveonholidays.com) I picked up a car. This medium-sized company has a personal service that was so very heartening after all the fuss a flight can bring and has a wide range to suit all needs and, unlike some, allowed me to collect in Faro and drop off in Lisbon, to have English Sat Nav and to register automatically the tolls I passed through.
I left Faro airport to reach the very point where Portugal meets both Spain, across the Rio Guadiana, and the Atlantic. For I had come to stay at the oldest hotel south of Lisbon Grand House, Vila Real de Santo António (www.grandhousealgarve.com).
Indeed the eponymous town is surprisingly and mercifully off most tourist maps. Built to a plan in 1774 with its grid of cobbled pedestrian streets and a divine square of symmetrical facades it has low-lying cobalt blue and white fishermen's houses that overlook the river and a marina busy with bobbing boats and tinkering sails. It's full of locals garrulous and gesticulative going about their shopping. And there's something reassuring and magical I always find about the nasal and plaintive, but not beseeching, tone of the Portuguese accent.
Lisbon Grand House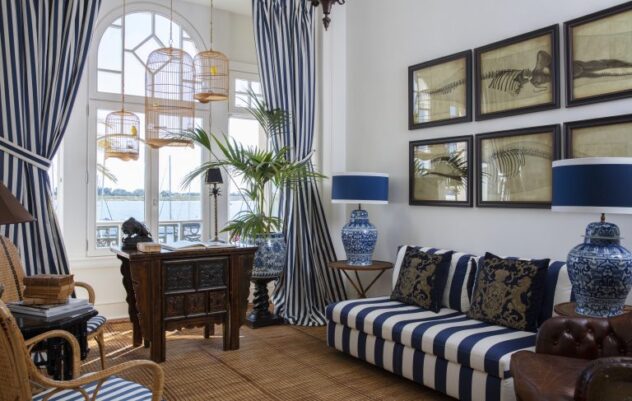 The chic and impressive interior lives up to the hotel's name. It's part colonial with fans and wenge furnishing, with lacquered wicker chairs and continuous dark mat wooden flooring, with palm plants and a sitting room bedecked with caged canaries. And it's part nautical exemplified by a library with maps and by blue and white striped drapes in the dining room which also delivers saxophonic sounds as breakfast is served on marble tables.
Grand Beach Club

The hotel even has its own Grand Beach Club, with an outdoor deck strewn with tables and sun loungers from which I savoured my organic salad and barbecued fish; while within the restaurant glorified in its pending rattan baskets of greenery: a worthy reward from walking the many miles of white sandy beach.
Along the motorway I went, short-circuiting the main touristic belt of central Algarve and towards the region called Alentejo in which it was a real find both to discover and to enjoy deep in the middle of nowhere and half an hour up the coast Herdade do Touril (www.herdadedotouril.com/en/). An 'herdade' is an estate comprising of houses, outbuildings and farmland.
Herdade do Touril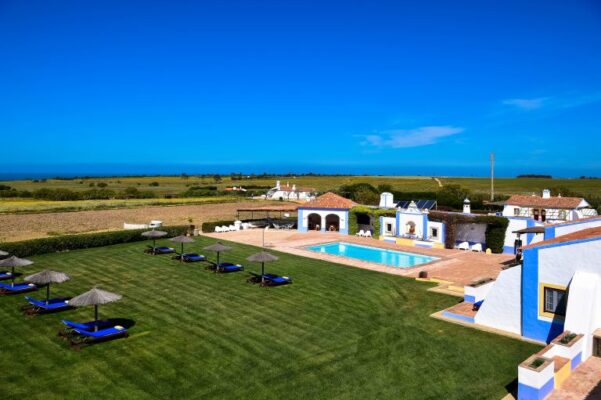 With utter rural honesty, it celebrated nature in all its beauty with a lovely harmonious interplay between mankind, animals and the land with a mutual appreciation that felt so good for my wellbeing. For I was surrounded by grazing sheep, by munching cows, by neighing horses and by braying donkeys.The communal dining area uses glass effectively to promote an indoor-outdoor feel and from here I enjoyed generous portions of healthy, hearty, fresh food providently provided from its organic garden.
It's right next to the Sao Vicente coastal path that runs along the entire coast on this edge of Europe and where people come to watch both migrating birds looking to roost and rest from their oceanic flight and butterflies flitting, swooping, hovering and dancing with great ease amongst the breeze.
Eco Suites Resort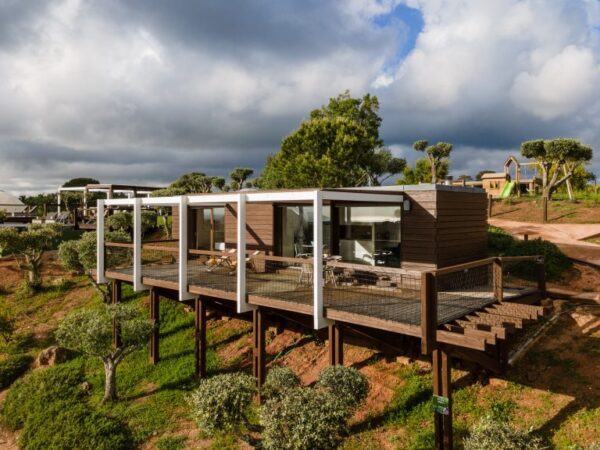 Up past Sines I went, the birthplace of Portugal's greatest explorer Vasco da Gama in her 'golden age of discovery' that was the early 15th century, to reach Eco Suites Resort(www.reservaalecrim.com). Set between Costa Vicentina and Comporta this state-of-the-art enterprise, begun in 2019, and with ambitious and expansive plans ahead, is certainly the 21st century in character.
Meaning 'rosemary', Alecrim is a glamping boutique designed for anyone who loves being at one with nature and to hear her sounds. It's set by a lake with villas boasting eco and sustainable architecture. From the driveway, lunar-like pod shapes appeared suddenly into view. My jumbo-sized, environmentally-friendly mushroom of a suite had a wooden sun deck, fun steps to ascend and décor that was brand new and had excellent finishing. And it was bang next to a giant indoor-heated pool.
Beside the enchantingly lit pond for freshwater bathers, with its four-poster lounges floating on pontoons and beside the infinity pool, I ate another night at Country, a warm and friendly pizzeria run by Frederico and his wife Beatriz. It has an indoors-outdoors feel to accommodate all seasons and weathers. Inside the glass cabin is decorated green to blend in with its natural surroundings of olive trees and a wood-burning stove keeps it all snug and cosy in the winter. Here my delicious Italian food comprised of a fabulous pizza with a salmon carpaccio salad and then a naughtily thickly-whipped creamy tiramisu.
I explored the local town of Santiago do Cacém to stroll in solitude around the perimeter of her church and hilltop Moorish castle, with views from the battlements stretching miles before going downhill amongst beautiful and fine Portuguese architecture in the old town. Most refreshing of all was the fact that there were no tourist shops or restaurants in sight anywhere.
Having lodged in my treetop pod and viewed the stunning sunset it was time to go further north to where, at dawn and dusk, storks also rest and nest famously on every available telegraph pole and church steeple. I came to my last resting place Quinta da Comporta (www.quintadacomporta.com) A 'quinta' is a country villa or estate. And here I found pool villas and townhouses all designed for an authentic wellbeing experience.
Quinta da Comporta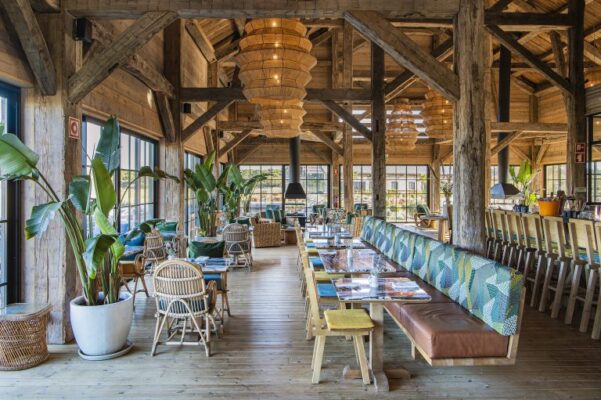 Opened in 2019, it has two super-sized ancient rice warehouses under terracotta-tiled rooftops where once the rice, before being dried across its burnt orange terracotta brick courtyard, was dressed and finally stirred. Now redesigned the buildings are still set behind working rice paddies, brown and golden in their different stages of harvesting. Bang next to which was the extra-long forty-metre infinity swimming pool all held in glass and allowing me simultaneously to swim and experience the outside world.
My room had a super-confident natural colour palette with little need for pictorial adornment such was the visual feast from the woven baskets on the walls, the honey wood and wicker and the sisal rug, stitchwork textiles and funky banana leaf chairs.
I ate one night a mere ten-minute drive away at Sem Porta Restaurant (www.sublimecomporta.pt/restaurant-sem-porta). I always like to eat fish when close to the sea as I know it will be super fresh. So I enjoyed spider crab and Russian salad followed by a grilled turbot with coriander rice, capers and razor clams before indulging fully in a dark chocolate fondant. My guilty pleasure after a weekend online doing breathwork and meditation with Evolve (). Both heavenly in their different ways.www.evolvehealingandmeditation.com
I reached Lisbon with ease beyond the other side of the river Tagus determined now to share this wilderness of coastline already popular with Germans and French. I must go back whenever but soon!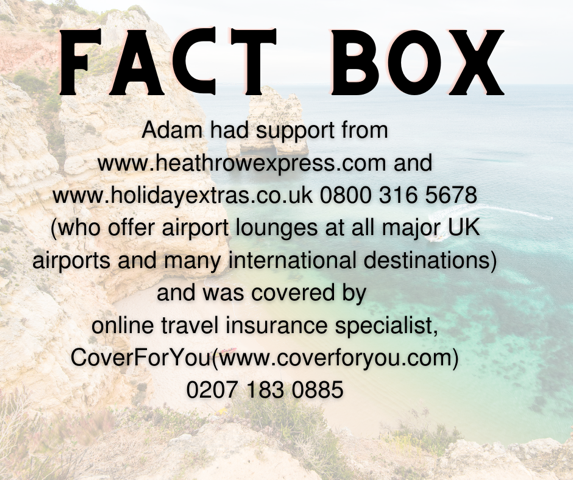 Tags: