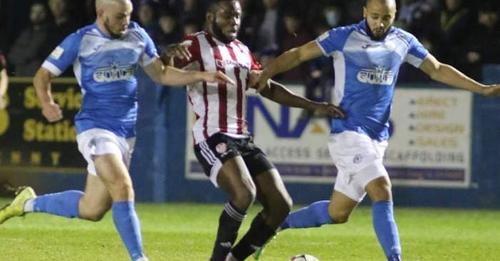 By CHARLIE COLLINS. PIC BY JOE BOLAND NORTH WEST NEWSPIX
A FRANTIC last ten minutes saw Derry City share the spoils with Finn Harps in this keenly-contested derby at Finn Park in Ballybofey on Friday evening, November 5 (kick off 8 pm).
Ollie Horgan's side looked like they had done enough to claim what would have been a massive three points in the 83rd minute when Ethan Boyle headed Ryan Connolly's free home.
But two minutes later Boyle was at the centre of the action again when referee Ben Connolly pointed to the spot when the ball struck the defender's arm.
Derry sub Jamie McGonagle converted from the penalty to set up a pulsating finish in front of more than 3,000 fans down Navenney Street.
Derry piled on the pressure as they searched for the winner but Harps held tight.
The draw means that Harps stay ahead of fellow relegation rivals Waterford on goal difference as they were beaten by Shamrock Rovers.
There were two changes on both teams from Monday night's games v Drogheda & Waterford.
Harps brought in Ryan Rainey and Will Seymore for Shane McEleney and Sean Boyd while Derry brought in Ciaron Harkin and Bastien Hery for Ronan Boyce and Evan McLaughlin.
With Derry pushing for Europe and Harps pushing to stay clear of the trap door, there was a great crowd of more than 3,000 fans down Navenney Street.
A good long range effort in the 10th minute from Harps Ethan Boyle was the first real chance and it needed an equally good save from Gartside in the Derry goal.
It was Harps with the more positive of starts as they brought the play into the visitor's half.
Tunde Owolabi had another half chance as his effort struck the side-netting but Ryan Rainey will claim he was in a better position in the 18th minute.
Will Seymore, who enjoyed a busy opening 20 minutes went to ground in the Derry area but referee Ben Connolly was having none of it despite protests from Harps fans.
Pacey Tunde continued to cause problems for former Harps player Ciaran Coll and Cameron McJannet in the Candystripes' back four.
There was a big shout for a penalty in the 32nd minute as a Seymore effort struck the arm of City defender Ciaron Harkin but no action was taken.
The shouts Ruairi Higgins at his players signalled the worries of the Derry boss as he counted the minutes to get his side back into the dressing room to regroup at half-time.
Owolabi again beat McJannet for pace and the Derry defender was forced to concede a yellow card as he brought the Harps striker to the ground in the 38th minute.
Harps were the happier going in at the break but Horgan knew that Derry were due a decent spell in the second period after creating very little of note in the opening 45 minutes.
Derry upped the tempo from the restart with Akintunde and Thompson making probing runs as the rain came down making underfoot conditions difficult.
But it was Mustoe who fed Owolabi only for McJannet to block as Tunde continued to run the line only to be caught offside on a number of occasions.
On the hour both teams scrapped for possession in an attempt to get the upper hand and snatch the opening goal.
Tunde broke again with O'Sullivan in support but before Tunde couldn't pick out the Harps sub he was fouled but nothing came from the free.
Derry's Joe Thompson gave Harps a fright in the 78th minute when he latched onto a clearance to shoot just over the Harps crossbar.
A free in the 83rd minute by Ryan Connolly saw Ethan Boyle rise highest and he headed down past an outstretched Gartside to make it 1-0.
However, just a minute later Derry broke and an inswinging ball saw Boyle try to pull his hand away only for the ball to strike his hand
McGonagle struck the resulting penalty and made no mistake to beat Mark McGinley to make it 1-1.
Finn Harps: Mark McGinley, Ethan Boyle, Jordan Mustoe, Kosovar Sadiki, Dave Webster, Mark Coyle, Ryan Connolly, Barry McNamee, Ryan Rainey, Will Seymore, Tunde Owalabi. Karl O'Sullivan for, Adam Foley for McNamee.
Derry City: Nathan Gartside, Daniel Lafferty, Ciaran Coll, Cameron McJannet, Eoin Toal, Bastien Hery, Ciaran Harkin, Jack Malone, Joe Thompson, James Akintunde. Jamie McGonagle for Hery, Ronan Boyce for McJannet.
Referee: Ben Connolly
Tags: