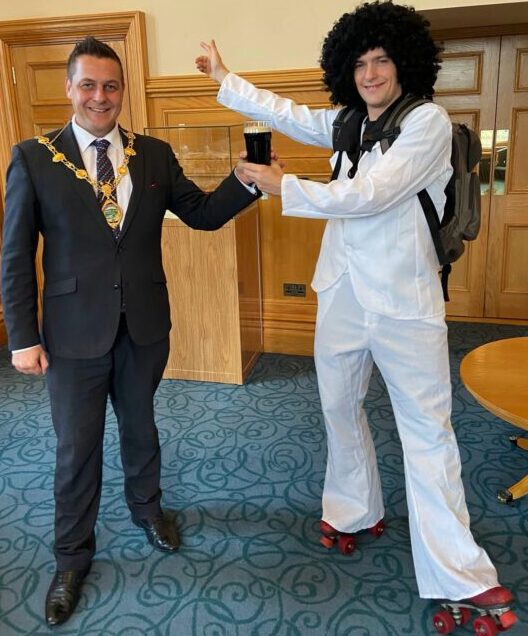 A DERRY skateboarder who went viral on social media after being filmed speeding down the a steep street on roller skates and while drinking a pint has had a special meeting with the city's mayor.
Mayor of Derry City & Strabane District Alderman Graham Warke met with Joe Hill on Tuesday after contacting him on social media to invite him to the parlour for a pint.
Cllr Warke said that the daredevil was "a bit blown away" when he received the message.
"He actually asked 'Is this really the mayor?'" said the DUP councillor.
"He arrived in the full outfit and the skates and what was surprising was that it was totally clean!
"I think a lot of people who watched the video were wondering if he spilt the pint but he told me he didn't spill a drop."
Professional skater Joe Hill was filmed out in the city enjoying Halloween in his impressive Saturday Night Fever-inspired costume.
More impressive than his white tuxedo and wig, however, was his skill on the roller skates, as he sped down Derry's Waterloo Street.
I really should be posting some of the amazing installations and performances from @DerryHalloween this year . Honestly this makes me laugh so much . pic.twitter.com/vrISSkK4cT

— Ryan Vail (@ryan_vail) November 1, 2021
Holding and drinking his pint in the rain and blustery wind on Sunday, Mr Hill doesn't spill a drop as he is cheered by friends and onlookers before coming to a stop at the end of the street.
Mr Hill's skill on four wheels isn't that surprising, with the professional skater having competed on the board in the likes of Berlin and Barcelona and other places across the globe.
Going under the name of joeskillzz on Instagram, he also owns a skate park at Trench Road in Derry and runs bi-monthly roller skating nights at the Glenaden Arena on the Waterside.
Mr Hill joked: "It was one of my better bad ideas.
"[The costume] was more just inspired by having roller boots and got a disco costume to match them. And wearing the boots all night was the challenge.
"We were in Lizzie's (The Castle) bar and I just said: 'Go you out first and I'll come out with the pint and fly down past'. I didn't really plan much more than that.
"I can't really slow down on the roller skates, so once I was going I was just along for the ride."
When asked how he kept his pint from spilling while skating, Mr Hill said: "I had plenty of practice at both that night. The crazy thing is I still had half that pint after I skidded and crashed at the bottom.
"Not so much a crash, as a controlled skid into the wooden wall."
"Where I go [at the end of the video] is a dead end so I just skidded into the wall and it broke a bit and bounced me back, so actually got away with it completely, didn't even get the trousers wet."
A video of the eye-catching moment has been viewed almost 80,000 times on Twitter, with Mr Hill inundated by people praising his pint-holding skills as much as his skating.
Derry musician Ryan Vail shared the video online, commenting: "I really should be posting some of the amazing installations and performances from @DerryHalloween this year. Honestly this makes me laugh so much.
"Worth noting he's a professional skateboarder, will most likely be representing Ireland in the next Olympics. He didn't fall at the end."
Chicgibson on Twitter joked: "What is it they say about the mad and the daft being looked after? If I tried that, straight on my face."
Rachel said: "This is my new favourite video".
While Patrick Duffy commented: "Derry at its best".
Tags: