Derry City and Strabane District Council's annual festival is billed as one of the biggest Halloween parties in Europe if not the world.
This year's celebrations, called Awakening the Walled City, will see an array of unforgettable sights, characters, and digital wonders.
The programme is set to run from Friday, October 29, until Halloween night on Sunday, October 31.
Halloween celebrations in 2020 were reduced significantly, with most festival programmes moving online due to the Covid-19 pandemic.
This year, because of continuing Covid-19 restrictions, there will not be the traditional parade, but the firework display finale over the River Foyle will return.
Highlights of the planned programme include several illuminated worlds spread across the city along with the island of Ireland's first ever digital LED installation.
The 360-degree structure will use film, animation, special effects, and augmented reality to create a spectacular lightshow.
Each world will also have its own programme of activity featuring a range of installations, large scale inflatables, aerial acrobatics, dancing flames, displays and animation.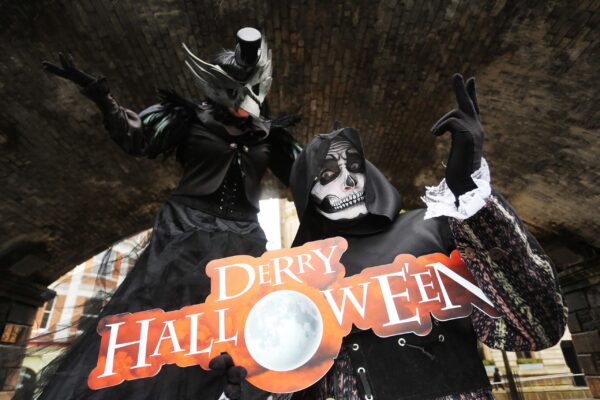 Three of the worlds are in the city itself, with one world located in Strabane and, for the first time, one themed zone is to be located across the border in Buncrana, Co Donegal.
Event organisers have several measures in place to ensure the celebrations are in line with Covid-19 restrictions.
The council said lots of open spaces would allow for social distancing.
Signs will also give advice safety and staff will be on hand to remind people of guidelines.
On Tuesday, Infrastructure Minister Nichola Mallon said additional transport services would be put in place for the festival.
Ms Mallon encouraged those attending the festival to utilise public transport or to walk or cycle.
The NI Fire and Rescue Service (NIFRS) has urged people to stay safe.
Group commander Suzanne Fleming said Halloween could be one of the busiest times of the year for firefighters.
"It is concerning that we saw an increase in incidents last Halloween and that the majority of fires we attended were set deliberately," she said.
"Please don't put extra pressure on us by starting fires deliberately.
"And if you're using extra fire hazards at this time of year – such as candles, sparklers and fireworks – please follow our safety advice."
Tags:
GHOSTS, ghouls and the living dead will stalk the streets of Derry as the city marks Halloween.