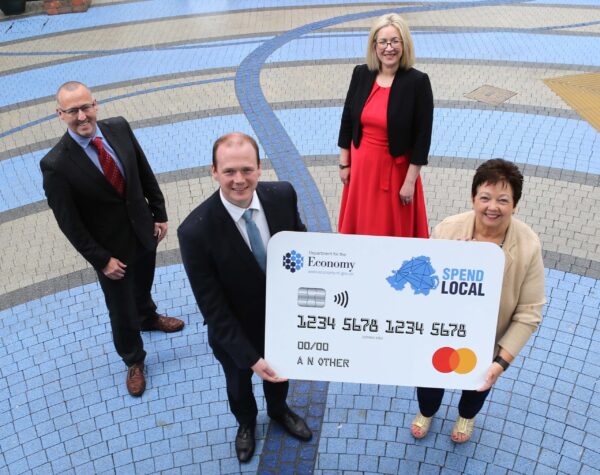 ONLINE applications for the North of Ireland's high street voucher scheme have opened but some people have complained that they cannot access the website used for the process.
Everyone aged 18 and over can apply for a £100 "spend local" card to use in shops before the end of November.
There have been problems with the application page on the NI Direct site after it opened on Monday morning.
Some reported receiving a '502 Gateway' error message when they tried to connect to the site while others still can't receive a confirmation email.
Economy Minister Gordon Lyons said "not everybody has to rush at once" to it.
Some people have complained on social media that the website had crashed them while others said they had not received a verification message after entering their email address.
Mr Lyons acknowledged there was "huge demand".
He said the verification messages were being sent "in a staged process just to make sure the website isn't overwhelmed all at once".
"There is a card available for everyone that is eligible so I would encourage people to apply for that over the coming weeks," he said.
The cards are expected to arrive between seven and 10 days after you apply.
They can be used in any shop with a card machine but cannot be used online or for gambling or legal services like penalties.
A phone application service will open on 11 October for anyone who does not have access to the internet.
The online and phone application processes will remain open until 25 October.
The £145m scheme is designed to boost activity in businesses hit hardest by the coronavirus pandemic, like non-essential retail and hospitality.
High streets and town centres were already facing a tough time before the pandemic began with the rise in online shopping.
It is hoped the voucher scheme will encourage more people to go out to shops, which could help the economic recovery.
The trade organisation Retail NI has urged shoppers to spend their voucher cards in locally-owned, independent shops.
Its chief executive Glyn Roberts also expressed some concern that the online portal could be overwhelmed if everyone tries to apply as soon as it opens to the public.
"With a scheme of this ambition and size we are bound to experience some problems and would urge shoppers to be patient," he said.
"If people can wait a few days before making their application, hopefully we can avoid any delays or problems with a rush on the online portal and they will receive their voucher on a timely basis."
Mr Roberts also said that 70p in every £1 spent with an independent retailer "is recycled around the economy, supporting local producers and manufacturers".
"As the scheme opens and consumers are thinking about how to spend their voucher, we would strongly encourage them to use with local independent retailers," he added.
Tags: