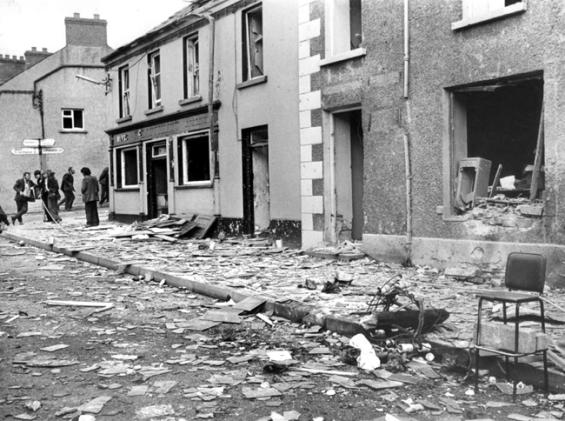 RELATIVES of three Claudy bomb victims have settled legal action against the police and Northern Ireland Office.
The PSNI and the NIO "agreed a full and final settlement without an admission of liability", KRW Law has said.
"The sum of the settlement is to remain confidential," they added.
Nine people were killed when three Provisional IRA bombs exploded in the Co Derry village in July 1972.
Kathryn Eakin, the youngest victim, was cleaning the windows of her family's grocery store when the first bomb exploded.
In a statement on Friday, KRW Law, who is representing three families, said both the PSNI and the NIO "have agreed to pay the costs of our clients up to the date of this agreement".
The law firm is representing the families of William Watson Temple,16, David Miller, 60, and James McClelland, 64, who all died in the 1972 bombing.
In 2013, families of the Claudy Bomb victims said they were taking legal action against the Catholic Church, the police and the government.
In 2010, a Northern Ireland police ombudsman's report said detectives had concluded that the late Father James Chesney, who was later moved to the Republic of Ireland, was a suspect.
It said the police, the state and the Catholic Church had covered up his suspected role in the bombing.
No action was ever taken against Fr Chesney, who died in 1980.
On Friday, the law firm said their clients' legal proceedings against the Roman Catholic Dioceses of Derry "remain unresolved and will procced".
In a statement, the Temple, Miller and McClelland families said that "they were deeply disappointed in the lack of a proper investigation into the murder of their loved ones".
They said they "look forward" to the findings of their case against the Roman Catholic Dioceses of Derry.
The families said they also wanted to place on record "a sense of appreciation for the mature attitude displayed by the PSNI and the NIO during mediation".
No one has ever been charged in connection to the Claudy bombing.
Tags: