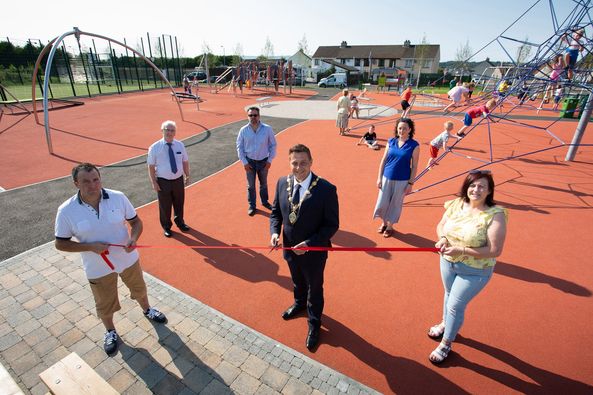 MAYOR of Derry City and Strabane District Council, Alderman Graham Warke, has officially opened a new, state-of-the-art play area in Magheramason.
The playground and free-play Multi Use Games Area (MUGA) is located on the site of the old play area on the Mason Road in the village and has been fully funded by Derry City and Strabane District Council at a cost of £635,000.
Equipment includes a wheelchair accessible ground flush roundabout, an eight-metre high space net, a zip line, two multi-units with towers for younger and older children, climbing nets and slides, and a variety of swings with adapted swing seats catering for different ages and abilities.
A landscaped grass area also includes tree planting, seating areas, cycle stands and fully inclusive picnic tables and paths.
Opening the facility, Mayor Warke said: "This is a fantastic day for the young people of Magheramason and for the whole village.
"Work has been ongoing on this play area since the end of last summer, and now it gives me great pleasure to hand it over to the people of Magheramason to enjoy.
"This is a sign of our commitment as a Council to addressing rural play provision and to providing facilities for our young people to come and enjoy themselves while also getting some physical activity and socialising with others.
"It ties in with our Green Infrastructure Plan also, utilising the space with environmental benefits.
"It has been an incredibly challenging year for our young people who have shown great resilience during the COVID-19 pandemic, and I hope that the opening of this play area will give them a boost as we continue our return to normality."
Susan McElwee, community representative for Magheramason, added: "We are so delighted to have this wonderful play area on our doorsteps here in the village.
"There's so much for our children to do, and it's also a welcome space for parents to gather as well and have a chat in scenic surroundings.
"I have no doubt that there will lots of excited young people running around this facility for many years to come!
"Thanks to Derry City and Strabane District Council for their support in delivering this project."
Tags: