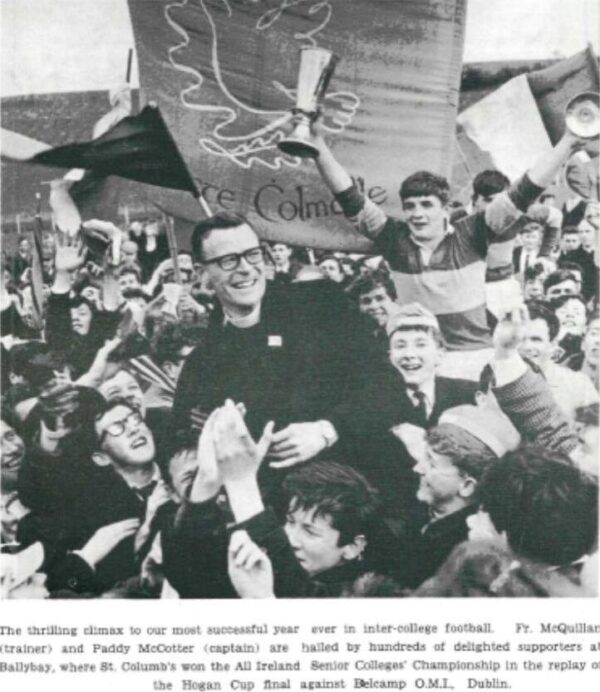 A PRIEST has been fondly remembered at his Requiem Mass as an educational moderniser who constantly fought for the disadvantaged.
Former Fermanagh inter-county footballer and junior All Ireland winner, Monsignor Ignatius 'Iggy' McQuillan died on Friday.
He was aged 90.
A past president of St Columb's College in Derry, Monsignor McQuillan was told by the late bishop of Derry Neil Farren to give up playing Gaelic football when he was ordained in 1955.
While he agreed with the bishop, the Newtownbutler native continued to play using the name of the All Ireland trophy, Sam Maguire.
In 1959, he captained Fermanagh when the county won the All Ireland Junior championship.
As was the practice at the time, the ball was thrown in to start the game by Bishop Farren who revealed later that he recognised his priest but decided to turn a blind eye.
Bishop of Derry, the Most Reverend Donal McKeown, who presided at Monsignor McQuillan's funeral Mass at St Mary's Church, Ardmore in Derry yesterday, noted that a number of his former team mates – including Owen Callaghan, Jim Collins, Sean O'Loughlin and Pat O'Loughlin – were in attendance.
Bishop McKeown said he believed they used to play "along with some fellow called Maguire".
Monsignor McQuillan's successor as president of St Columb's, Fr John Walsh told mourners the late priest shone as a footballer with his home county under the "nom de guerre Sean Maguire" and as a golfer.
As a GAA tactician, he delivered a Hogan Cup to St Columb's in 1965.
"I remember the man for others who fought for the disadvantaged as headmaster of the college and who preached forgiveness for teachers and boys alike day in and day out, the president who brought St Columb's into the 21st century, the moderniser who changed the curriculum and developed pastoral care," Fr Walsh said.
Now based in Inishowen, Fr Walsh said Monsignor McQuillan had reshaped Catholic education in Derry and was the first chairman of the board of governors of the city's newest Catholic grammar school, Lumen Christi.
Following Requiem Mass, Monsignor 'Iggy' McQuillan was laid to rest at St Mary's church cemetery.
Tags: