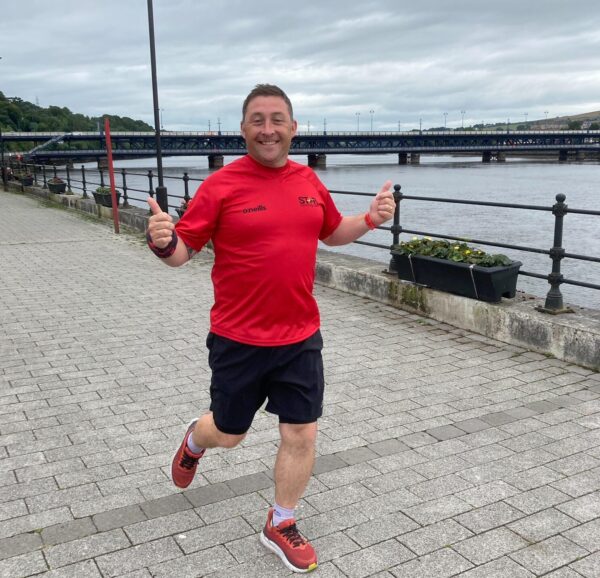 A DERRY man is aiming to mark his 1000 day streak of running at least 5k day a day, with a one hundred mile challenge over 24 hours in September.
 
Local runner Seamus Crossan, founder and chairperson of Star Running Club, is bidding to raise enough money to purchase a wheelchair accessible people carrier for Belmont Cottages.
 
He is due to hit the 1000 day running milestone on the weekend of September 25, when he will complete 100 miles over 24 hours, and he's appealing to local people to support him in his mammoth fundraiser.
 
Seamus said: "I started my RED (Run Every Day) challenge in January 2019, with my great friend Stephen Quigley. Once we got the first month done we said let's try February, as it only has 28 days lol. From that it just turned into an everyday routine. 
 
"I had already completed a full year or more of running by the time lockdown happened so was already in the zone to try and keep it going.
"At Star Running Club we set individual and team challenges to help keep us motivated during lockdown. Without the support and friendly competition from the club I could have easily stopped.
 
"With no races due to Covid I decided I needed a challenge I hadn't attempted before to mark my 1000 day milestone.
"I've already completed back to back marathons, quadrathons and even 40 miles around the track at St. Columb's Park for the Relay for Life, but I blame Mr Coors for coming up with the idea of the 100 mile challenge, and honestly it should come as no shock to anyone who knows me."
 
Seamus will begin his 100 miles at Patricia's Coffee House on Saturday, September 25, and will continuously run a loop that will take in the quay, Craigavon Bridge, train station St. Columb's Park returning back to Patricia's Coffee House which will be the base.
 
Seamus added: "My plan is to run 4.5 miles on the hour every hour until the 100 miles are completed.
"I have allowed time for hydration and fuelling up after every rep and maybe a sports massage should I require it. 
 
"Anyone is welcome to run with me and support on the day will be greatly appreciated, especially during the early hours of the morning, but we must also be mindful of social distancing regulations.
"We will be arranging one-hour slots closer to the event so stay posted."
 
All the money raised will be donated to Belmont Cottages, a residential setting for people with learning disabilities and complex needs.
 
"I manage Belmont Cottages," explained Seamus, "and I saw at first-hand how the Covid lockdowns had affected our residents as their daily routines became disrupted.
"We had little access to transport, so appointments needed to be rearranged and activities or outings were limited.
"I was able to continue to get out running every day but unfortunately the residents were unable to get anywhere.
"This is what planted the seed to trying raise money to purchase them a wheelchair accessible people carrier."
 
And as to whether Seamus will keep running 5k every day in October, he says the jury is still out.
 
"That is the million-dollar question," he said. "At the minute I don't know. I don't know how my body will react if I stop, or after the 100 miles if I will I even be able to walk.
"I think my wife Louise would like me to take a break, due to the amount of daily washing of running gear and money spent on runners!
 
"I'm just so glad to be fit enough to take on the challenge. Running has changed my life.
"I first took up running in honour of my mum by completing the Derry marathon for the Foyle Hospice.
"I now use running as my therapy, to help both my physical and mental health. It has brought so many people into my life, that I am honoured to call friends. 
 
"I would definitely recommend it especially if you join a great club like Star. They are very friendly, supportive and would go the extra mile for each other. 
 
"At the moment I'm just looking forward to this challenge which will enable the residents of Belmont Cottages to get their own wheelchair accessible people carrier to allow for the freedom to get out and about without relying on others."
 
Donations to Seamus' challenge can be made at: https://www.justgiving.com/crowdfunding/belmont-cottages
 
Tags: