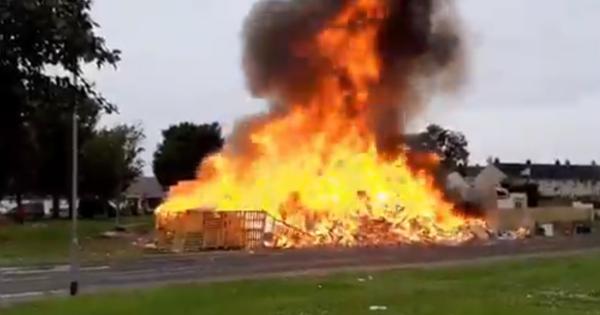 A contentious bonfire in Co Derry was set alight in the early hours of this morning.
The controvsial pyre had been been painted green, white and orange by loyalists, leading a local politician to brand it as "an expression of hate".
Normally the bonfires are lit on the 11th night.
But loyalists set fire to the one on Greystone Road in Limavady in the early hours of Saturday, morning July 10.
East Derry Sinn Féin MLA Caoimhe Archibald has criticised the bonfire on the Greystone Road in Limavady and raised concerns about its size and proximity to houses.
"Over the past few weeks myself and my councillor colleagues have raised concerns about the bonfire on the Greystone Road in Limavady," she said.
"We've met with the various agencies including the PSNI, council and the Housing Executive, who own the land upon which the bonfire is built every year.
"This year the size and proximity of the bonfire are again causing concern and it is vital that agencies with responsibility step up to protect residents and property.
"The police and the fire brigade must have the resources they require to ensure the safety of residents.
"Protecting lives, property and the environment must be the priority.
"We'll continue to engage with the police and other agencies over the next number of days."
Meanwhile, a loyalist bonfire collapsed shortly aftrer it was set on fire in Portadown.
Posts on social media showed the pyre lean to one side before collapsing.
Scores of people including young children scream as they flee the area as the bonfire plummets toward the ground before landing close to parked cars and a road.
People can he heard saying how "scary" it was and how they feared it would land on them.
In another clip cars can be seen attempting to drive away among the crowd as the structure topples.
Sinn Fein Councillor Paul Duffy said it was a miracle no one was killed or seriously injured after the bonfire's collapse onto the main road.
"Imagery on a bonfire collapsing in Portadown last night is deeply concerning," he said.
"Nearby residents, drivers and homes were placed in serious danger as this bonfire came crashing down on to a main road. It's a miracle that no one was killed.
"It's long past time the PSNI, Housing Executive and other agencies took their responsibilities seriously and act to remove these dangerous bonfires before someone is killed."
Independent unionist councillor Darryn Causby was at the bonfire and witnessed its collapse. He said organisers attempted to clear the area and had informed people not to park in certain places.
He commended organisers for their efforts in trying to keep people safe.
"People took an unnecessary risk, they needed to be more careful," he said.
The former DUP man said he did not need to run when the pyre collapsed as he was standing at a safe distance. He said he had helped move cars which had parked too close "not as an organiser but as a concerned elected representative".
"The evening felt like very much like a family-orientated night. It was peaceful, jovial and the fire was preceded by a community fun day and hundreds attended. Thousands were at the fire.
"There are attempts by Sinn Fein to dial up the rhetoric.. and in an election year people can see through it. We will take no lectures from Sinn Fein and their links to he IRA and continued glorification to those involved in terrorism and murder.
"What I saw last night was bonfire builders telling people to stay clear and they chose not to do that. It is not the first time a bonfire has fallen.
"People have to be aware of the responsibility on their part to keep a safe distance."
Tags: