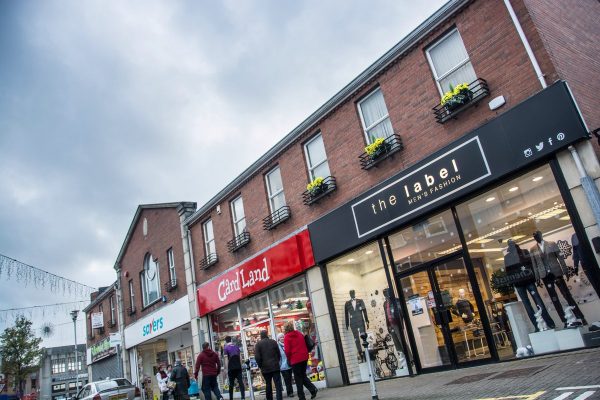 BUSINESSES in the Strabane BID area are being advised that the new BID Business Plan, that was developed following consultation with them and stakeholders, will be made available in the coming weeks for review ahead of the new ballot in September.
A copy of the draft Business Plan was presented to members of Derry City and Strabane District Council's Business and Culture June Committee meeting where elected members gave their unanimous support for the BID proposals.
Members at the meeting were very supportive of the plan and spoke about the very positive impact BID has had on the town and the potential to deliver impressive plans for the future.
Emma McGill is the Strabane Town Centre Development Manager, she explained that the Business Plan focuses on Strabane BID's intentions over the next five-year period from November 2021 to October 2026.
She said a full strategic review was completed at Board level to ensure BID are responsive to its member businesses' needs.
Since its introduction in 2016, Strabane BID has enjoyed a range of successes, led by a dedicated board and working in close consultation with businesses and partners which is coming to the end of an initial five-year term and a renewal ballot is planned for September 23rd.
Among the successes has been the InStrabane gift card which can be purchased online or in some stores and can be used in over 70 businesses in the town from a wide variety of sectors, and the important role Strabane BID has played in delivering support for businesses over the past 15 months in navigating the unprecedented challenges of COVID-19 and now moving forward through the recovery process.
Emma McGill explained that, following a strategic review, the new Mission Statement for the Strabane BID is – 'To provide a strong collective voice for Strabane's business community' and 'To work in partnership to support, promote and advise our member businesses to sustain, transform and grow a vibrant Strabane Town Centre, creating positive opportunities for businesses and the community'.
She said: "We are delighted to have received this positive endorsement from the Business and Culture Committee and to reassure all businesses that they will receive a copy of the business plan in the coming weeks."
Emma explained that the key themes for delivery included in the business plan include -Promote, Strengthen, Support, Improve and Attract.

"These aims focus on improving the trading environment and providing a strong voice for business and representing their needs.
"We are fast approaching the end of our first term and the renewal ballot which will take place on September 23rd.
"We are extremely proud of the work carried out so far, but we also know there is a lot more to do and we need those crucial yes votes in the upcoming ballot to continue that good work supporting and promoting Strabane town and our local businesses, and to guarantee our business community a strong voice in the £70m Strabane Regeneration Project Canal Basin site."
She added that she is hopeful that businesses will vote YES when the ballot papers arrive to secure future investment in the area and ensure business needs are represented at a strategic level.
Tags: