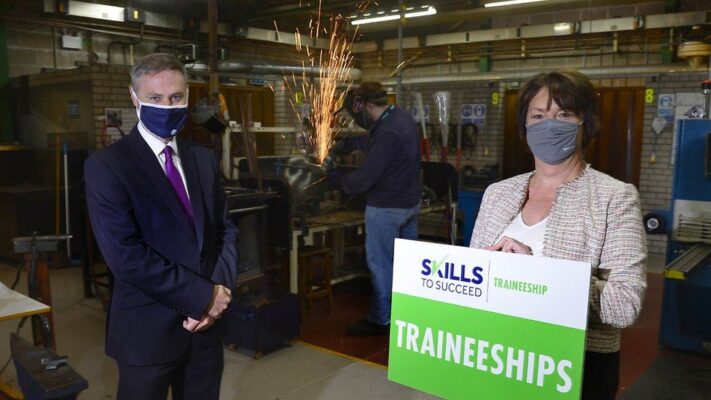 A major £180m investment into further education is set to produce 20,000 traineeship places in NI.
The Department for the Economy announced the money would create the places over the next seven years, starting in September 2021.
The NI Traineeship combines classroom learning and work-place training for people over the age of 16.
There are six further education colleges across Northern Ireland, which offer training in a range of areas.
Qualifications are varied, and include engineering, plumbing, brickwork, retail, and hairdressing.
The qualification students receive is equivalent to five GCSEs, and gives an opportunity to progress into an apprenticeship or into further education.
Economy Minister Paul Frew said training the North of Ireland's workforce was "essential in rebuilding the post-pandemic economy and in addressing a future skills deficit".
He said it was a "fantastic and accessible new route to learning" and he would encourage anyone who is interested and eligible to look at the options available.
The scheme is partly funded through the Department's Economic Recovery Action Plan, which outlines how to restart the local following the Covid-19 pandemic.
Ken Webb, chair of the Further Education Colleges Principals' Group, said that: "Now more than ever, people are weighing their options and looking for careers that work for them."
He said the skills gap here "has never been more apparent" and Monday's launch would address the post-pandemic situation.
Speaking on BBC Radio Foyle, Dr Catherine O'Mullan from the North West Regional College (NWRC) said the traineeships will both give opportunities to young people and benefit the local economy.
"It's also important for employers because it provides a high quality vocational education training programme enabling them to have a pipeline of new talent," she said.
She said NWRC expects to receive around £400,000 of the new investment per annum.
The first 100 students will begin their studies in September.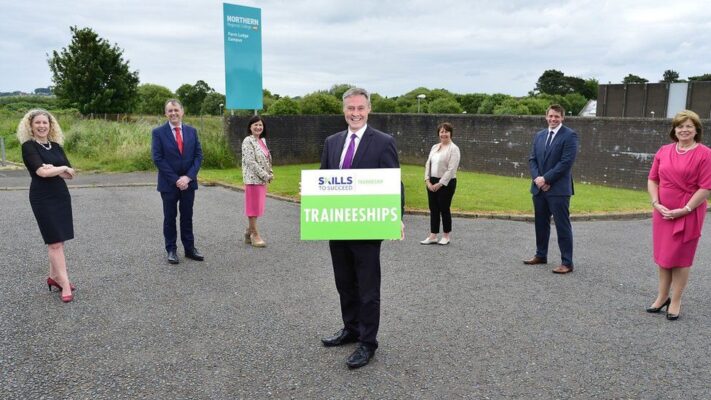 In May, a report from the department said the executive would have to spend an extra £461m a year to bring spending in further education to where it was a decade ago.
The Skills Strategy for the North of Ireland document highlights the need to invest in skills development to avoid an undersupply in the STEM (science, technology, engineering, and mathematics) skills over the next 10 years.
Some participants on the NI Traineeship scheme are eligible for financial support, including the Education Maintenance Allowance, free school meals, travel passes, and further education grants.
Tags: