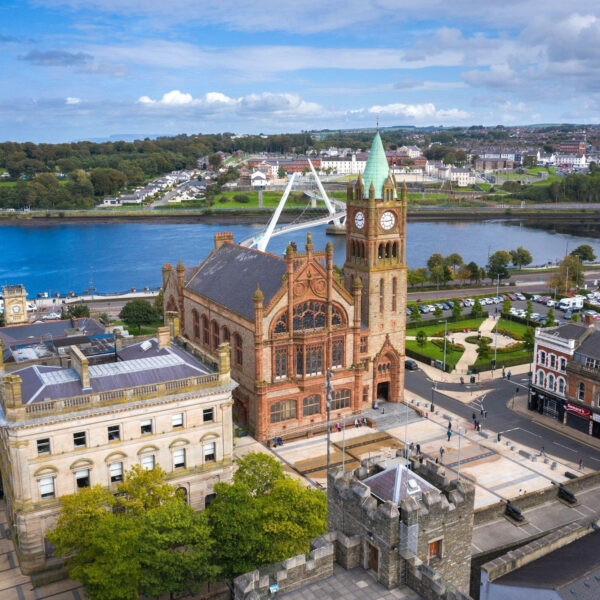 BUSINESS owners in Derry have said they are "delighted to see the streets coming back to life" in the latest easing of lockdown restrictions.
The Derry City and Strabane District Council area is easing its way back out of its third lockdown today.
The council area went into its second lockdown last October after a huge spike in Coronavirus cases.
Restaurants, cafes and bars will be able to operate indoors, hotels and B&Bs can reopen and indoor group exercise can resume from Monday.
Ministers approved relaxing lockdown rules in the North of Ireland last week.
Kiera Duddy, owner of the Pickled Duck cafe in Derry, said she is "excited and nervous" to welcome people back inside.
Speaking to BBC Radio Foyle, Ms Duddy said that she expects high footfall in the city and for cafes, restaurants and bars to be very busy.
"We have reset our inside tables, we've done our cleaning, we have our food prepped, I've printed out the menus and we are are just ready to go," Ms Duddy said.
"This is our fourth time reopening and we really hope it's the last because I don't think my wee head or my heart could take any more."
Jamie Steele, who works at the Nine Hostages cafe in the city, said he is looking forward to things "starting to get back to normal".
"I'm delighted to see the streets coming back to life and people interacting with each other again," he said.
Mr Steele said that staff members have been working tirelessly in preparation from going from takeaway only to indoor dining.
"We have sat here all weekend just trying to get ready, it's quite overwhelming to be honest as we just have so much to do," Mr Steele said.
"We just have to get through this transition period and we can go from there."
Personal trainer and gym owner, Kevin Harkin, said he is very excited to welcome their members back for group exercise classes from Monday.
Previously, gyms have been only able to operate for individual training under the restrictions.
Mr Harkin told BBC Radio Foyle that group classes are a huge part of the gym's fitness programmes and over the last few weeks they have made changes to the gym layout to comply with social-distancing requirements.
"It's great that we are opening up that wee bit more and getting that community aspect back again.
"People really want to get back into their routines and it is so important for people's mental health," Kevin said.
Hotelier Brendan Duddy, who owns the Holiday Inn Express on Derry's Strand Road, said the past year has been incredibly difficult for business owners.
"It's been terrible for us as all, terrible for us as business people, but we are just so excited and we just hope that this is it, and are very happy that we are booked out on Saturday night," Mr Duddy said.
"We are just looking forward to being busy and just to have people and it's so good to be back to normal, well new normal."
The president of Donderry Chamber of Commerce, Dawn McLaughlin, said it is a big day for everyone after a very hard year.
"It's been a horrendous year for a lot of our members, some have only traded for five weeks in the last 14 months.
"Today they are just so full of positivity and optimism to be able to open those doors after all this time."
Last week Stormont Finance Minister Conor Murphy said he believe it was "highly unlikely" the North of Ireland would go back into another lockdown.
Businesses across the Derry and Strabane Council area hope that this is the case as the start to rebuild their businesses back up again after repeated lockdowns.
Tags: