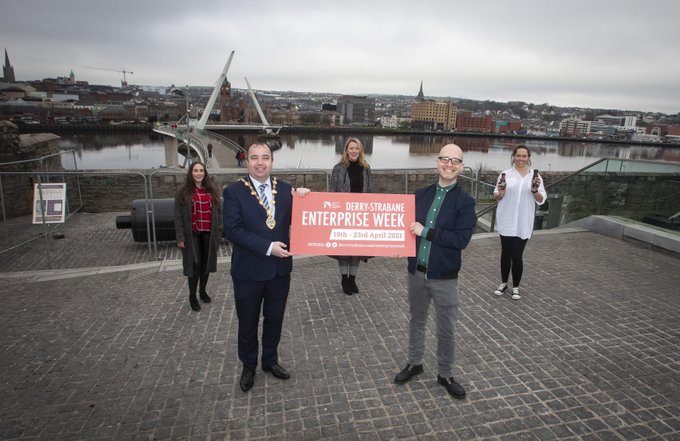 LOCAL music acts are being offered the chance to showcase themselves to a regional audience as part of the programme for Enterprise Week Derry Strabane 2021.
Acts are being sought to provide a recorded video performance to be broadcast as part of LEVELUP – a two day hybrid event drawing on and looking at innovation and best practice from around the world.
LEVELUP will be delivered by Startacus, a start-up focused platform, programme and event facilitation company and in partnership with Derry City and Strabane District Council.
The event seeks to inspire change and encourage entrepreneurship at a local level, exploring how people, both regionally and internationally, have created opportunity, economic growth and initiated real change.
In addition to a series of inspirational sessions on a range of topics including Entrepreneurship and Innovation, Social Change and Inclusion and Diversity, the organisers want to showcase some talented local artists and musicians over the course of the two days, as we are expecting local, national and international attendees.
"We know that the last year has been particularly challenging for local musicians and whilst we may not be able to offer them the opportunity to play a live gig, we would like to provide a paid opportunity to showcase what they do via a virtual performance," explained Alastair Cameron, Co-Founder of Startacus.
"During the two day event, we would like to feature short video recordings from up to three local artists – solo performers or groups and in some small way celebrate what they do.
"We want to highlight that, despite the recent challenges, the Derry music scene is as alive and vibrant as it ever was."
If you are an artist from within the Derry City and Strabane District Council area and you'd like to submit a video recording for consideration, send 1 or 2 .mov or .mp4 videos of 3-5 minutes in length of you performing an original track via WeTransfer to iam@startacus.net by Saturday April 10th.
All those who have submitted recordings will be contacted by week commencing Monday April 12th and videos from up to three selected artists will be broadcast over the course of the two days.
The technical quality of the recording will also be a consideration in the selection process so the more professional looking the music video the better.
All featured artists will be paid £100 – £150 via Paypal or Bank Transfer if their videos are selected (£100 if 1 video is featured, £150 if 2 videos are featured).
All videos selected will remain the property of the artists and will only be used by the Startacus team during the LEVELUP day and evening events on 21st and 22nd April.
Enterprise Week 2021 will be held from Monday April 19th to Friday April 23rd and will offer expert support in building business resilience and how to tailor operations and services to meet the unprecedented challenges that the expected reopening of full trading will bring.
Among the highlights in the five day programme are three Full Circle hosted workshops on Business Resilience, Social Media and Online Advertising.
You can register for all the events at derrystrabane.com/enterpriseweek where the full programme is also available.
Tags: