Dylan Llewellyn, Jamie-Lee O'Donnell, Louisa Harland, Nicola Coughlan and Saoirse-Monica Jackson come together – via Zoom – to discuss fundraising ideas for this year's event.
The seven-minute sketch, just released online, features each of the cast members staying true to their Derry Girls personas as they debate suggestions.
Louisa Harland, who plays naive and wacky Orla McCool, parades Red Nose merchandise while throwing in random ideas.
At one stage she is joined in the kitchen by Kathy Kiera Clarke, who plays her mum Sarah in the sitcom, and who offers the cast a bowl of cereal.
The parody is introduced by Saoirse-Monica Jackson, who plays the self-involved Erin Quinn.
She tells her co-stars she has personally received an email from Comic Relief, asking for help.
Nicola Coughlan, who plays Clare Devlin and also stars in Bridgerton, says she is slightly cautious about the project in case they come across just like their characters in the hit show.
Jamie-Lee O'Donnell, who plays Michelle Mallon, the wild child of the group, suggests a World Record Snogging Marathon, putting herself forward as the one who gets to kiss male celebrities.
She expresses interest in Bridgerton heartthrob Rege-Jean Page as a possible contender but dismisses Coughlan's claim that she knows him. O'Donnell replies "Aye Nicola, dead on, so you do."
In keeping with the treatment of his character, James Maguire, Dylan Llewellyn's ideas are all shot down. He's put on mute and told he's taking part in a sponsored silence while the other four continue their debate.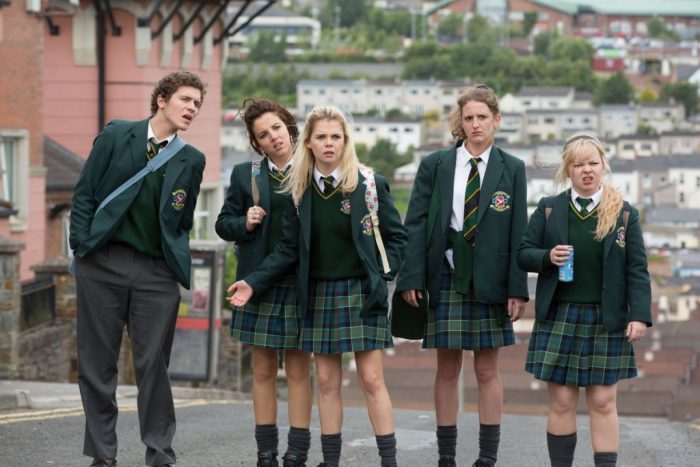 When the cast members realise they've all received the same general email from Comic Relief and that it wasn't a call out to the actors to organise a fundraising event, they decide they've had enough.
And when Coughlan then tries to tell them she's been approached by Lenny Henry, a fan of Derry Girls, they laugh her off.
The skit ends with Coughlan taking a call from Henry, one of Comic Relief's co-founders. At this stage the rest of the cast have already left.
The Derry Girls reunion was organised to help promote the Red Nose Day merchandise range, available in selected Sainsbury's stores and sainsburys.co.uk from Friday, March 19.
Tags:
THE cast of Derry Girls has reunited in a hilarious new video to support this year's Red Nose Day.