Michael Allen, head teacher of Lisneal College in the Waterside, said the letter recognised the school's "amazing service" during the pandemic.
A die-hard United fan, Mr Allen said it had left him speechless.
The letter was organised by head girl Grace Dickson and caretaker David Brennan.
"They wanted to thank me – for whatever reason," Mr Allen told BBC Radio Foyle.
"It was just out of the blue yesterday. I was up with a year 8 group, our head girl came in with something in a bag. I wondered what it was," he said.
"And she said our caretaker David Brennan and her had had a conversation about doing something nice for me."
The letter read: "Everyone at the club is in awe of the work of all frontline workers.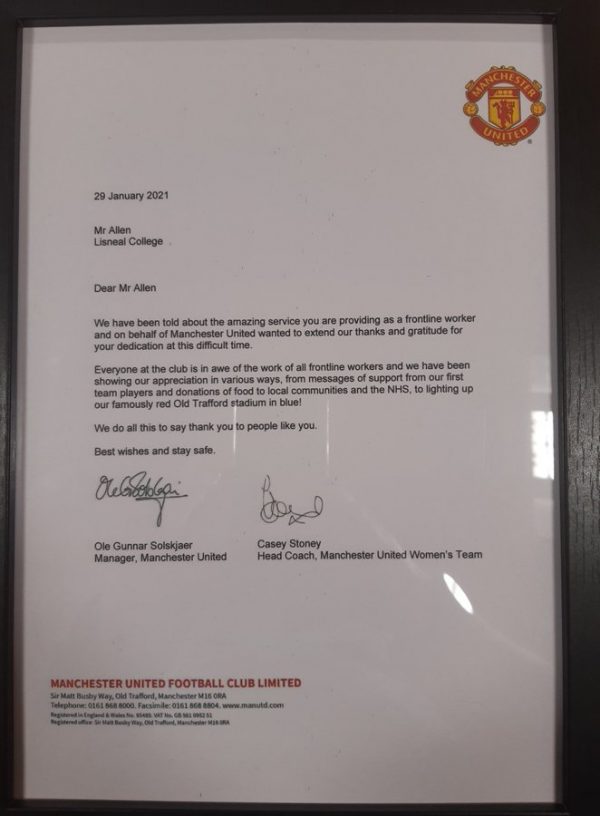 "We have been showing our appreciation in various ways, from messages of support from our first team players and donations of food to local communities and the NHS, to lighting up our famously red Old Trafford stadium in blue!
"We do all this to say thank you to people like you."
Mr Allen said it "means just as much that a pupil and staff member did this".
The letter has now taken "pride of place" in his office, alongside his prized signed Manchester United shirt.
"All I am waiting for now is a short-term contract," he said.
Tags:
A DERRY secondary school principal has been left "chuffed to bits" after receiving a letter from Manchester United bosses Ole Gunnar Solskjaer and Casey Stoney.