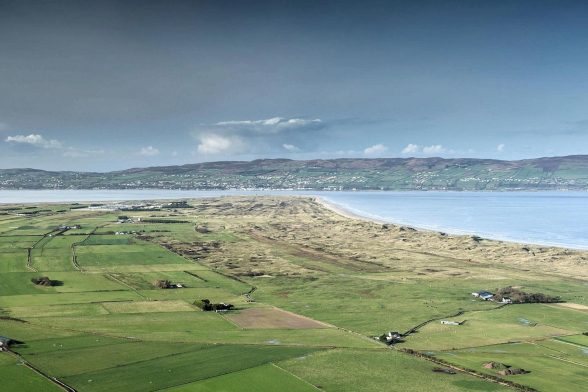 SINN Féin Group Leader on Derry City and Strabane District Council Sandra Duffy has welcomed the Councils support for her motion that the local Council will write to both the Irish government and the Department of Agriculture, Environment and Rural Affairs Minister to call for urgent engagement with the British Government to seek a resolution to the ongoing dispute over the jurisdiction of Lough Foyle
Speaking at council meeting this week, Cllr Duffy said: "I welcome the council's backing for my motion in relation to the long running dispute over the jurisdiction of Lough Foyle.
"Since the partition of our country we have had an ongoing dispute regarding the ownership of Lough Foyle.
"It has been raised many times over the years with concerns around fishing rights and marine life.
"After the Good Friday agreement, the Loughs agency was set up to oversee the regulation of the Lough. But unfortunately, this is not having the effect it was hoped, as it is being stymied by the ongoing dispute.
"We have seen the Lough be referred to as the Wild West, particularly when it comes to oyster farming.
"From 2014 we have seen the proliferation of unlicensed and unregulated oyster farms along the Inishowen Shore of Lough Foyle.
"The number of oyster trestles has grown from 2,000 to now well in excess of 60,000.
"These oyster trestles have no license to operate, no regulation is taking place and the local community were given no opportunity to have their say on these developments.
"This Wild West scenario is not sustainable for the oyster farmers either, as under EU food safety rules, licensing and regulation of the food product is required.
"We are deeply concerned and frustrated at this issue and the impact it is having on the local marine environment, causing untold damage to marine and local wildlife with the destruction of the Lough shore also impacting on migrating birds.
"It is outrageous that more than 20 years after the good Friday agreement the dispute over the jurisdiction of Lough Foyle continues.
"The British government still claims ownership of the entirety of Lough Foyle on behalf of the Crown Estate and the Irish government still disputes this claim.
"This dispute has meant that the issue of aquaculture and the foreshore licensing is at a standstill and the Loughs agency can only stand by and watch these oyster trestles grow to tens of thousands, making a mockery of the sustainable management of the immense resources of Lough Foyle for all.
"This council declared a climate emergency, this destruction of our natural environment on this scale of mass farming, is contributing to that climate emergency.
"The dispute over this territory has gone on long enough and allowed for the destruction of this natural asset.
"So I ask that this council support my motion that we write to the Dublin Government and the DEARA minister asking that they urgently engage with the British government on this issue and reach a resolution.
"I would like to finish by thanking our Donegal colleagues for bringing this motion to our attention and we should add our voice to theirs in seeking action to protect the Lough for future generations."
Tags: