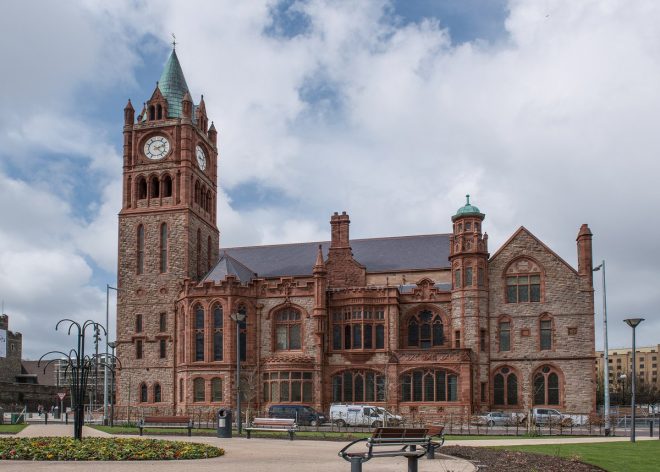 A special meeting of Derry City and Strabane District Council was convened by the Mayor Councillor Brian Tierney this afternoon to approve a raft of new interventions to support local community hubs currently inundated with requests for Covid support.
A third tranche of funding has just been announced by the Department for Communities and Members were told that £442,028 had been earmarked for three key areas which include Food, Income and Connectivity across Derry and Strabane.
Mayor Tierney raised the issue as a matter of urgency today in line with Council's standing orders, to highlight the pressures experienced by the network of community response organisations responsible for distributing aid on the ground.
Council has been working with a dedicated team of community partners in each District Electoral Area since the crisis began in March 2020.
Substantial financial support has already been made available by the Department for Communities and Council to meet the growing need for emergency food aid, fuel stamps, care packs and additional advice services.
The Community Support Fund has enabled the delivery of a wide range of initiatives including the Access to Food Programme, Financial Inclusion Partnership and the Warm, Well and Connected programme which are currently being implemented across Derry and Strabane.
However, escalating demand for assistance from families experiencing food and fuel poverty, poor connectivity and unable to access suitable IT equipment for home schooling, has meant excessive pressures on community support groups.
Council has been consulting widely with Local Growth Partnerships to ascertain need, and Mayor Tierney today asked Council members to consider how Council could best assist groups and make the distribution of aid more efficient and effective across the City and District.
"We have a fantastic network of community and voluntary organisations working on the ground to deliver interventions, but they need all the support that's available to help meet local need," he stressed.
"I want to welcome this third tranche of funding from the Communities Minister which will help to alleviate pressures and put in place sustainable, targeted measures that will prioritise those most in need.
"Partnership is key to the effectiveness of our response to this emergency and we have a fantastic network of experienced organisations working with Council on the ground.
"We must look at practical ways to support these organisations across both urban and rural areas and increase their capacity to provide for local people.
"While the financial aid is there a gap has emerged in the ability to deliver this aid as a matter of urgency, and groups are struggling to operate effectively to meet growing levels of demand with their existing resources.
"This is resulting in unnecessary stress for staff who are already working under extremely difficult conditions assisting people who are sometimes in extreme distress.
"I hope the additional interventions and resources approved today will help alleviate these pressures and ensure that a more sustainable approach to the distribution of aid can be taken over the coming months.
"I also want to take this opportunity to acknowledge the fantastic efforts of local people in bringing down the Covid-19 infection rate in Derry and Strabane in recent weeks.
"Please keep up this effort – I know it isn't easy, but I hope that we leave the worst of this pandemic behind us and we will be here to support you as we hopefully now move towards recovery."
Members agreed to a range of additional measures today including working with local schools to help families unable to participate in home schooling due to connectivity issues or lack of equipment.
Families in rural areas including the Sperrin and Derg who struggle with connectivity were highlighted as a particular priority for support.
£270,000 will be channelled into improving connectivity, with £10k also allocated to the 4Rs Centre to support the Information Technology Reuse Scheme, which has been repurposing old laptops for local families who do not have the equipment for home schooling.
Of the remaining funding £134,028 will be available to provide further support for Food and Fuel.
Council also heard that the Department for Communities have recently announced a Bulk Order Food Scheme to be delivered through Community & Voluntary Sector Organisations across NI.
This scheme will be operational until 31 March 2021, and two local hubs will manage the scheme, one for urban and one for rural areas.
During the virtual meeting Council Members took the opportunity to praise the work that is currently being done by Local Community Growth Partnerships, Neighbourhood Partnership Boards, Advice Services, local Food Banks and charities and all the volunteers working tirelessly to address the growing need for advice and support at this time.
Tags: