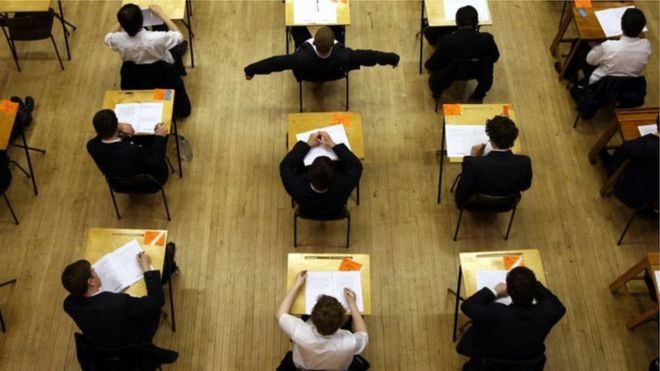 A meeting by Stormont Executive ministers to break the deadlock over the transfer test debacle has been delayed.
Ministers were due to meet on Thursday afternoon but will now meet on Friday morning.
The meeting was postponed because two members of the executive are attending funerals of their mother-in-laws on Thursday.
The justice and infrastructure ministers say they only became aware of the reasons for the postponement after the meeting was rescheduled.
On Wednesday evening Infrastructure Minister Nichola Mallon posted on social media that she had written to the first and deputy first ministers asking them to reconsider the delay.
On Thursday morning Ms Mallon tweeted her condolences saying she had not initially been made aware of the circumstances of the cancellation.
Justice Minister Naomi Long also suggested there had been little communication around why the meeting was delayed.
"Maybe if the First and Deputy First Minister had the courtesy to give other ministers a reason for the delay, this wouldn't have happened", she said
On Wednesday night Deputy First Minister Michelle O'Neill said her condolences were with the two executive colleagues who were attending funerals of their relatives on Thursday.
Sinn Féin said it will put the matter to a vote unless the DUP's Education Minister Peter Weri cancels the test, but Peter Weir insisted it is out of his remit.
He said it was in the hands of private bodies responsible for the tests.
On Tuesday news came initially that all transfer tests were cancelled in Northern Ireland.
Hours later a single Association for Quality Education (AQE) transfer test was scheduled for 27 February.
The issue has split the main political parties at Stormont, who already take different views about the use of academic selection for grammar schools in Northern Ireland.
Sinn Féin, the SDLP and Alliance believe the process should be scrapped, but the DUP supports the current system.
UUP MLA Robbie Butler has proposed a "hybrid system" for this year, suggesting pupils' scores from their best two mock papers and previous attainment records should be used as criteria by grammar schools.
Sinn Féin wants Mr Weir to use existing legislation to intervene and ensure the tests do not go ahead this year.
But the minister has insisted he will not do that.
Mr Weir argued that without the test, there is no other "obvious solution" for ensuring academic selection continues this year, and accused those criticising him of trying to "scrap academic selection entirely".
All GCSE, AS and A-level examinations in Northern Ireland have also been cancelled this year due to the Covid-19 crisis.
Ministers were also due to seek to clarify detail of new lockdown restrictions that will take effect at midnight on Thursday, in response to rising cases of coronavirus.
The stay-at-home order will become legally enforceable, meaning the PSNI will have powers to direct people home if they are engaged in prohibited activity.
Anyone caught being away from home without a reasonable excuse can be issued with a £200 fixed penalty notice or a fine of up to £5,000 if the case goes to court.
Tags: