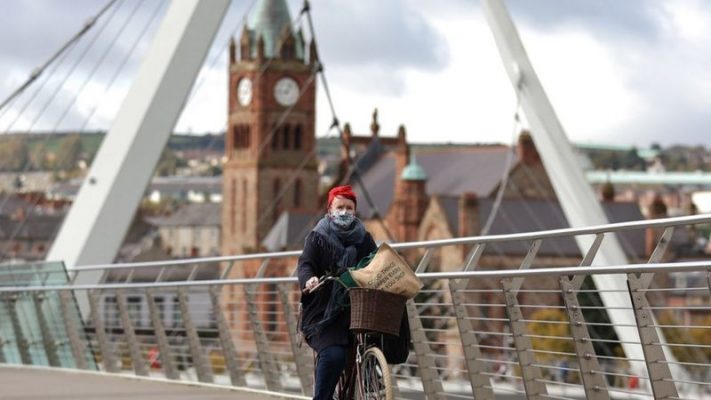 A six-week lockdown has started in the North of Ireland in a bid to stop the spread of Covid-19, with non-essential shops forced to close.
Essential shops must stop trading each day by 20:00 GMT during the first week of the measures.
Close-contact services, such as hair salons, are also to shut, while pubs, cafes and restaurants are restricted to takeaway and delivery services.
Executive ministers have said they will review the lockdown after four weeks.
The new rules include:
Closure of all non-essential retail, including garden centres and homeware shops
Click-and-collect retail services will not be permitted
Closure of close contact services such as hair and beauty salons
Hospitality businesses will only be allowed to offer takeaway and delivery
Closure of the leisure and entertainment sector
Off-licences will have to close by 20:00
Hotels will be allowed to remain open until 28 December to "accommodate the Christmas situation"
Businesses permitted to open have to limit numbers on their premises at any one time and there is to be an expanded use of Covid marshals in the retail sector.
Tighter restrictions are in place for a week from today, Boxing Day, December 26, as the executive urges people to abide by its "stay at home" rules.
No gatherings – indoor or outdoor – are permitted between 8 pm and 6 am each day.
This means people are not allowed to meet others in private gardens or indoors in any setting between these times, except for emergencies or the provision of health or care services.
Outdoor exercise is permitted only with members of your own household.
No sporting activity is allowed at all during the first week of lockdown, but elite sport will be allowed to resume – without spectators – from 2 January.
Health Minister Robin Swann said the stay-at-home message during this week would be made "legally enforceable".
Police would be given "additional" enforcement powers to ensure people are only leaving their homes for essential reasons, he added.
Earlier this week, the Executive published guidance which states that anyone travelling into Northern Ireland who plans to stay for at least 24 hours must self-isolate for 10 days.
But people who routinely cross the border for essential purposes will not be subject to restrictions.
It has also defined further what it constitutes as "essential travel", including for work and health reasons.
The Republic of Ireland has imposed a temporary travel ban on Great Britain, but the Irish government has said it will not introduce controls on the border with Northern Ireland.
There will be an increased Garda (Irish police) presence on Irish roads but road blocks will not be placed on the border to prevent travel between NI and the Republic.
Christmas bubbles are still allowed, but the executive is urging people to form them only if "absolutely necessary".
It agreed that they should be limited to one day, but there is flexibility on which day between 23 and 27 December people can come together, to accommodate those working on Christmas Day.
The four UK nations previously agreed to allow some contact over Christmas, allowing up to three households to join together during the five-day window.
However, those rules were later severely reduced in Great Britain as well, due to concerns about the infectious new variant of coronavirus.
This does not affect support bubbles already formed by some households earlier this year, which can continue to apply.
Some of the measures are only guidance and there is no penalty for breaking guidance, but people in Northern Ireland caught breaching coronavirus regulations can face a minimum fine of £200.
There are also three other offences:
Not closing a business as required
Breaching closing times
Not implementing social distancing
Breaches of those laws can incur a fixed penalty notice of £1,000 or up to £10,000 on conviction.
Health Minister Robin Swann has called for the stay-at-home guidance to be given legal force, in order to ensure people comply.
It is not clear whether the lockdown rules could be extended after the six weeks, but the executive says it will respond in line with any developments regarding pressures on the health service.
Tags: