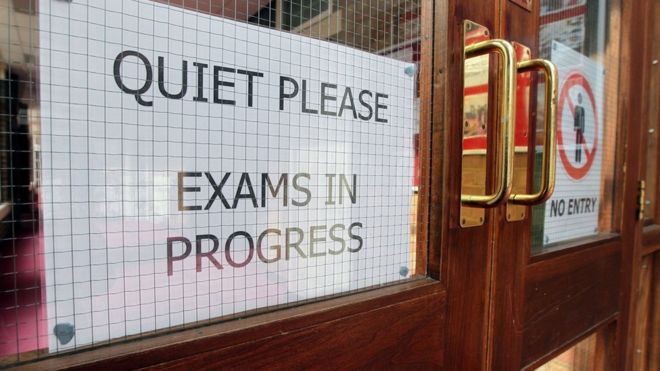 EDUCATION Minister Peter Weir has told Assembly members he will not cancel GCSE, AS and A-level exams next year.
Mr Weir also accused an SDLP assembly member of a "diatribe" over exams at the education committee.
The minister had been accused by the SDLP's Daniel McCrossan of "standing in the wilderness with your hands in your ears refusing to listen to anybody".
Mr Weir also said there had been "no pressing" from any health experts for schools to close early for Christmas.
In Derry, two college principals have said they are withdrawing some pupils from sitting certain exams in January because of the impact of coronavirus.
They said this was because of "unprecedented levels of pupil absence" due to self-isolation
Mr Weir was questioned by assembly members on Stormont's Education Committee on Wednesday.
On Tuesday, A-Level equivalent exams were cancelled in Scotland with pupils' grades to be decided by schools.
However, Mr Weir told MLAs that exams "remain the fairest method of assessing and awarding qualifications".
"My priority therefore is to ensure that public examinations go ahead," he said.
"Exams are the best way of giving young people opportunity to show what they can do."
But the minister said that he would announce further changes to reduce the number of exams pupils will take in 2021 early next week.
"I am considering both adjustments for individual candidates to take account of differences in the loss of face-to-face teaching time and also system-wide adjustments to qualifications to reduce the assessment burden for all our young people," Mr Weir said.
He was also critical of alternative arrangements for exams put in place in Wales.
"I want to make it clear I will not be cancelling examinations," he said.
"While Wales and Scotland have cancelled some public examinations, it now appears that young people in Wales will face externally-set examinations and these will be taken earlier than usual.
"There is a high degree of uncertainty across the Welsh system about what will happen."
Mr Weir said cancelling exams would "put significant tension on teacher pupil relationships".
"While some schools have called for centre-assessed grade,s and I understand their position, I've equally heard from many schools who feel that cancelled examinations would put school leaders and teachers under terrible pressure, putting the schools at risk of numerous appeals and litigations," he said.
But Mr Weir was heavily criticised by Mr McCrossan, who said GCSE and A-level exams next summer should be cancelled and alternative arrangements put in place.
"I am seeing the huge impact of decisions or indecision from you and your department," Mr McCrossan said.
"What you are doing is entirely without precedent and also, minister, in the current situation you're going to leave a lot of people very badly let down.
"You have not learned the lessons of the summer, which is a fairly unforgiveable situation.
"Do you think minister you should now apologise, meaningfully and absolutely, to our young people and our teachers for scapegoating them and for dithering on a very serious issue?"
Mr Weir replied that: "I detected at the end even a couple of questions at the end of that as opposed to just a certain level of diatribe that came before it."
He also accused Mr McCrossan of putting things in a "soap opera-like way".
Sinn Féin MLA Nicola Brogan said that BTeC students also had "serious concerns" with their subjects and needed to know if alternative arrangements were going to be put in place for them.
The chair of the committee, Chris Lyttle MLA, earlier said Mr Weir risked "a record from you of delayed, disengaged and morale-sapping decision making".
Mr Lyttle asked the minister why he had not decided to end face-to-face teaching in schools early for Christmas.
Some schools have told parents that pupils will not be marked absent if they do schoolwork at home in the final week of term.
"To close schools early would create enormous complications for tens of thousands of parents throughout society," Mr Weir replied.
He also said medical experts had advised that closing schools early would be "counterproductive".
"If you're putting into the community a third of a million children with the behavioural issues that are going to be there in the direct run up to Christmas, it's as likely that you're going to be increasing the R rate through that to a greater extent than you would through schools.
"There has been no pressing from anybody on the health side – whatever their views on other occasions – for any closure of schools."
Mr Weir also said that he would like school staff to be added to the priority list for the Covid-19 vaccine but that would be a decision which was taken on a UK-wide basis.
Tags: