Last week Adam visited the Northern Park of Kefalonia, and as he had so much fun he decided to return a couple of weeks later (well for some I say)
BY AMAM JACOT DE BOINOD
Such was her magnetism that within two weeks I was lured back to this enchanting island. This time to the Livatho region in the south.
The island is blessed, of course, for the majority of the year by the warmth of the virtually guaranteed sun, the clearest of vistas across the water and the cleanest of golden sandy beaches along this southern coast where the land and sea complement each other like two knights on a chessboard.
The water is family-friendly as it slopes gradually to its depths under a smooth flooring of sand. The vivid colours of the blue sky, the Cézanne-style white rocks and brown earth all protrude in sharp, pronounced definition.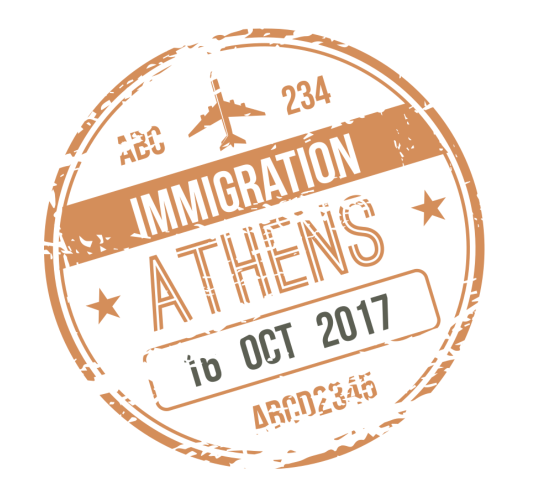 So content were the locals with their fishing livelihoods that as recently as twenty years ago they had no desire or imperative to attract tourists. Even now I sensed their authenticity, honesty and lack of pretension as they gently oblige in a hearteningly unimposing fashion.
Arriving was so uplifting. I loved that first sensation of leaving the aeroplane to be hit by that heat: as much as a ten-degree difference in temperature from that in Britain. I exited in record time the smallest of airports. There were no casinos advertised on billboards that so often deflates my optimism on arrival. For this is no Greek party island like Zante, Corfu, Rhodes or Mykonos.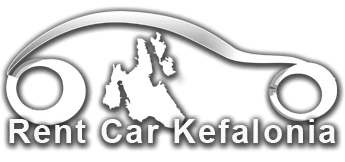 I hired a car from Rentcarkefalonia (www.rentcarkefalonia.gr/en) run by the charming Apostolis. Their greatest asset was my being able to get away instantly from airport interiors and queues and literally a minute's walk away down a lane with trees and I was already experiencing the warmth and nature that was to set the tone for my journey ahead.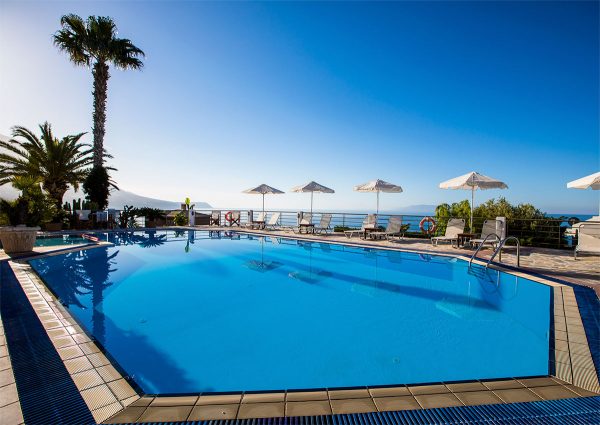 Twenty minutes away was where I had a wonderful time staying at Villa Rosa (www.villa-rosa.com.gr), Opened in 1997 and owned by the Georgatou family, it's a select and classy set of self-catering holiday homes.
Not only has it been fashioned in a highly tasteful way but it's extremely good value.
My experience echoed the positive comments in the visitors' book.
The interior is super-clean and fresh and decorated with rattan and wicker baskets throughout and other creative and welcoming touches and outside are balconies at every angle from which to catch the sun.
It's in walking distance, in both directions, to the two beaches of Trapezaki and Agios Thomas. But its overriding attraction is the stunning view, celebrated with specific points from which to lookout. From here I walked down a steepish road in reverent silence down to Denis Seaside Restaurant (
www.deniskefalonia.gr
). It's the most romantic of strolls under a canopy of bright stars as I began my descent to hear and then see the waves lapping the shoreline.
The charming owner and chef Makis provided my dinner that was straight from source, straight from the gardens alongside. I chose well with one local favourite: yoghurt with thyme honey and walnuts followed by the grilled prawns. I could have all too easily had any of the desserts of orange pie, lemon brûlée or poached pear but went instead simply for hot chocolate laced with brandy.
I went another evening to Lourdas beach, one of the key attractions of this southern coast. How good it is to be somewhere that attracts tourists but is still under-developed, where prize plots of land are still allotments, not high-rise buildings, where it's all still based around local life. To dispel any thoughts of mosquitos I always recommend the natural Canelle Spray (www.cinnamonhill.com) that is very effective and has a cinnamon aroma far preferable to that of the citronella variety.
Here I ate at Lorraine's Magic Hill (
www.lorrainesmagichilllourdas.com)
). There's an impressive length of table settings extending into the hill. The décor lives up to the magic of the restaurant's name.
The terrace is made from natural stone and is in a spectacular and harmonious setting from which to look down onto the sea where the waves offered all the music I needed. I loved the orange-lemon-olive oil dressing on the salads and an impressive list of chicken dishes of which I tried the Robola, sautéed with the island's traditional Robola wine, mushrooms and mustard cream and served with rice pilaf.
Back up the top of Lourdata is a strip of restaurants and other touristic attractions where the versatility of the locals is highly admirable as I met Marinos, very evidently the local fix-it man, owning not just his Captain Zorbas restaurant, with its wonderful upstairs veranda, but a couple of villas, a rent-a-car firm and even offering donkey rides.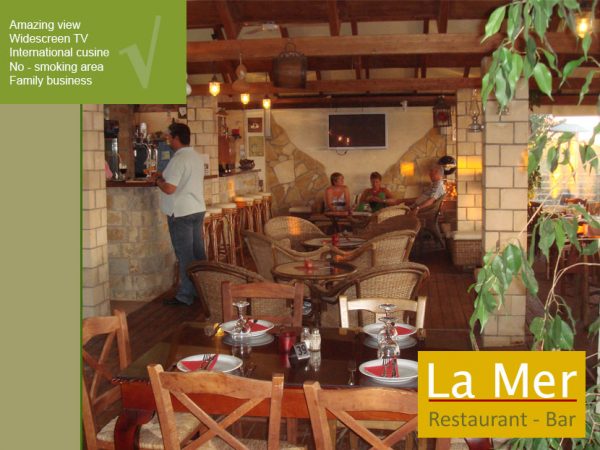 Along this strip is the restaurant La Mer (www.spyridoula.com/index.php/la-mer-restaurant) If you are in need of a 'night out,' I got my fill with its jolly joyful pumping of Greece's music's favourites. With lounge seats within and one long decked balcony of tables outside it offered areas of both conviviality and intimacy and its view out over the bay was magnificently open-ended
I went regularly for morning and evening strolls along avenues of both pine and cypress conifers and through silvery olive groves. I sensed the floral-scented orange blossom and jasmine that coloured the routes in addition to the red and pink bougainvillaea. Like a British meadow in August the bees hovered and the butterflies flitted. For here with farms, homesteads and allotments it's as surprisingly fertile, so southern a point on Europe's Mediterranean, as I had found Puglia to be.
Tucked away at the end of the road from the other restaurants on the strip is Chefalonia. It's just opened this year and is another family-owned concern with the father as the chef, one son in the kitchen alongside another serving the guests. Indoors it's expansive, fresh, light and airy, modern yet timeless. The décor consists of white wooden decking with lights made from bamboo sticks that move gently in the breeze.
My advice for all purses and groups: be you couples or families is enjoy the stretch from the airport to Lourdata. For beyond are the ports of Sami and Poros and the resorts of Katelios and Skala where the hotels, villas and apartments are less lovingly composed, the beaches less golden and the water less swimmable. April and October, the two bookends of the season, are the ideal times to go when it's not too hot and yet is wonderfully peaceful.
I must go back, whenever but soon!
Adam
Adam had support from Stansted Express (www.stanstedexpress.com) and reached Gatwick Airport via Southern Railway (www.southernrailway.com) as well as from Holiday Extras, the market leader in UK airport parking, hotels, lounges and transfers, who aim to find you a hotel and parking package that's cheaper than the cheapest airport parking on its own (on two week breaks).
To book the Hilton at London Gatwick Airport, visit HolidayExtras.com or call 0800 316 5678.
Prices at Villa Rosa Apartments (www.villa-rosa.com.gr) per night starting from E60 (low season) and E220 (high season)
Tags: