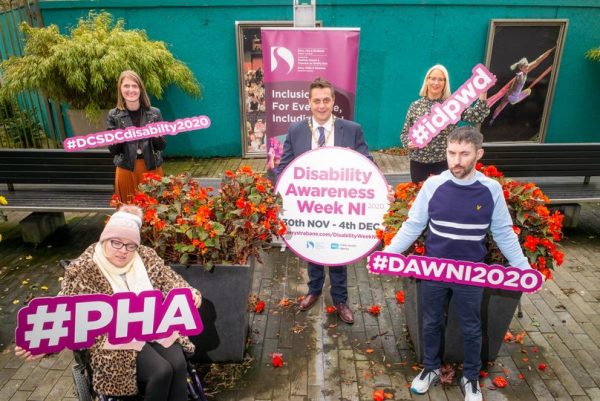 DERRY City and Strabane District Council have unveiled a packed programme of over 40 online events to celebrate Disability Awareness Week NI from Monday November 30th to Friday December 4th 2020.
In partnership with the Public Health Agency, the events aim to showcase and recognise the Council area's commitment to access and inclusion through the arts and raise awareness of the needs of those with disabilities.
The programme will showcase disability arts through various online portals and includes visual art and animation, discussions and lunchtime talks, performances, interactive activities, training and showcases.
This will be the fifth annual celebration of the week which also includes International Day for People with Disabilities on Thursday December 3rd.
Mayor of Derry City and Strabane District Council, Councillor Brian Tierney, will deliver a welcome and closing address as part of the comprehensive events listing.
"International Celebration of Persons with Disabilities Week aims to bring together and support people with disability in our community and promote health and wellbeing through the arts at this challenging time," he said.
"As a Council we are committed to ensuring this issue is at the forefront in all that we do so that we promote and facilitate equal opportunity for all.
"I would encourage the public to access the programme and get involved in the events that can be accessed online from the safety of your home."
Among the programme highlights are visual art and animation from Aoife Byrne, Ardnashee School and Satavisa Lahiri as well as lunchtime talks from Disability Sports NI, Ian Streets, Eden Community Projects, Headway UK , G Cody QJ Goldberg and the Informing Choices NI.
Echo Echo Dance, the Foyle Deaf Association Choir and Black Box will give online performances which will climax in a closing concert featuring Knockavoe SEN School, Sarah Jane Murray and the Strabane Brass Band.
Online short films and performances will be hosted by Stage Beyond Theatre Group, Lilliput Theatre, Northern Ireland Opera and while there will also be access and inclusion showcases from the Millennium Forum, the Foyle Down Syndrome Trust and the North West Spectrum.
Access and Inclusion Officer at Derry City and Strabane District Council, Louise Boyce, thanked all the partners who are also supporting the development and delivery of the programme.
"The restrictions and public health advice to reduce the spread of Covid 19 has created many challenges in developing an online programme that people can access remotely but it has equally created an opportunity to reach out to a much larger audience.
"I would like to thank all the venues, businesses, initiatives and artists for their support in developing the innovative and varied online programme that can be accessed worldwide through the internet.
"This year applicants have come from as far away as India and USA and regional organisations throughout Northern Ireland.
"While many of our cultural venues are currently closed, the work continues to improve their access and inclusion provisions and to develop arts projects that support our pan disability community, their families and carers."
A spokesperson for project partners the Public Health Agency added: "The PHA are delighted to fund the first virtual Disability Week NI through the innovation of the Access Inclusion Project at Derry City and Strabane District Council.
"This varied programme will engage and showcase the excellent work going on within the Council district and across NI, in access inclusion.
"This is a welcome opportunity to remain connected at this time and learn more about how we can all contribute to making services, programmes and physical environment more inclusive and accessible for those with disabilities."
Interactive programme highlights include the Energy of Light Disco, online activities such as wreath making, felting, potter and creative writing while there will also be training sessions in Dementia Awareness, Jam Cards and Cognitive Awareness.
For further information on the Disability Awareness Week programme visit: derrystrabane.com/disabilityweekNI
Tags: