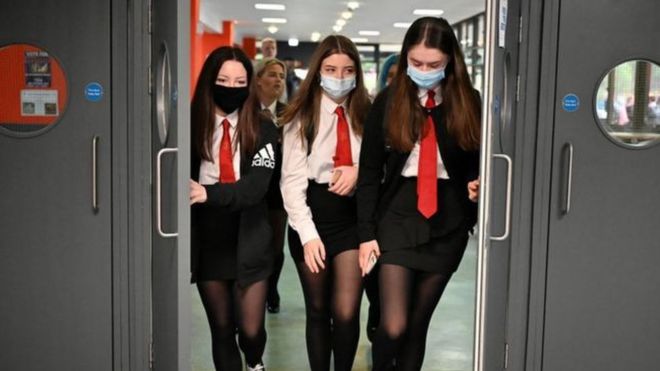 THE Stormont Executive has agreed that schools in the North of Ireland will reopen on Monday, November 2.
Ministers met on Thursday and decided extra measures will be put in place to allow pupils to return to classrooms safely.
Post primary pupils must wear a face covering on public transport to and from school.
Speaking at Stormont's press briefing on Thursday, First Minister Arlene Foster said it is "the activity and mingling outside school gates that is of particular concern", not what occurs within classroom settings.
"Messaging will be rolled out in the coming days," she added.
The First Minister said the education minister is due to publish further guidance on collecting children at school gates.
"Although parents now don't go into the school buildings, we are a little concerned that some may be together at school gates, maybe not social distancing or wearing a mask.
"There's a need for more careful looking at that."
She says Peter Weir is working with parenting organisations to get the message out that parents need to be cautious on school properties.
Mrs Foster also says that "it was never envisaged that schools would not open this Monday".
"We said schools were closed for two weeks.
"The education minister and infrastructure minister have brought forward a plan around public transport and Education Authority transport so that all post-primary children know it's mandatory to wear a mask unless you have a medical reason not to do so."
Education Minister Peter Weir said: "Principals and school staff have been working tirelessly to keep schools safe for pupils and, their efforts have ensured the level of transmission in schools remains low.
"However, the rise in the number of Covid-19 cases in the community is something we all must seek to address.
"The Public Health Agency has recommended that my Department strengthens the requirements around the wearing of face coverings on home-to-school transport.
"I have also had very positive discussions with the Infrastructure Minister, Nichola Mallon, on this issue and she too supports the need to ensure all post primary children wear face coverings on both dedicated school transport and public transport.
"Following agreement by the Executive today, I have asked officials to amend the current regulations to make the wearing of face coverings on both dedicated school transport and public transport mandatory for all post-primary children."
Tags: