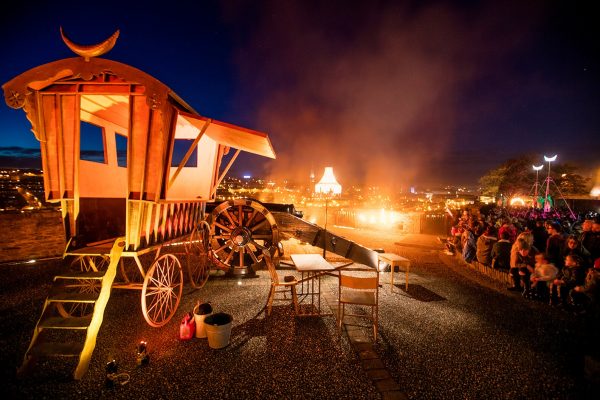 MUSIC fans craving the live gig experience can look forward to a reprieve at the end of this month when the Derry Halloween programme broadcasts a series of live online gigs from well known cultural landmarks around the city.
Samhain Sessions has established itself as one of the highlights of the programme over the last three years, showcasing some of the best acts in Ireland to revellers at the city's world famous Halloween celebrations.
The current restrictions mean a live audience is not possible this year but event organisers Derry City and Strabane District Council have teamed up with MRK Events to bring you professionally produced performances from a diverse line up of artists, such as Róisín O & John Broe, ROE, Tebi Rex, Reevah, Cora Harkin and Conor Scott.
The programme also includes Halloween themed performances from some exciting emerging talent from St Cecilia's College and Foyle College.
"Samhain Sessions 2020 will be a four-part series of live shows from both Derry and Irish artists, broadcast from 28-31 October on Derry Halloween social channels," explained MRK Events Founder Rory Kelly.
"Last year's festival allowed us to hone in on the amazing venues within the city and showcase some of the acts to the audience that visits Derry at this time of year.
"Our commitment to this event was to ensure that various acts were given a chance to return to a live setting and audiences were given a chance to see them perform again.
"The Council have built a glittering reputation for the event over the past number of years and to ensure that the Halloween programme in the city continues to develop, it was so important to keep it alive – albeit in a different capacity.
"We have had to rethink how we could still do this and we have created a series of live gigs – featuring some incredible talent.
"Spanning over four nights, we will have broadcast a run of four gigs to audiences online, the shows will all be professionally shot and produced and will be an exciting new element for the programme."
The Covid 19 pandemic has virtually wiped out Ireland's thriving live music scene and Rory was keen to stress how important it is to support local acts through this unprecedented time.
"There is not one person in the industry that hasn't been adversely affected," he admitted.
"That's not just artists – it's crew, technicians, management, promoters, but then also gig staff – people that work in venues, sell tickets, do PR.
"They have all been knocked.
"With no clarity on when things may return to an element of normality, it's important to show support with the people who are often at the core of memories, the people that make live music happen."
Samhain Sessions is part of a packed and varied programme for this year's Derry Halloween celebrations from October 28 until November 1 where the public are invited to 'Join us in spirit'.
The Awakening themed celebrations have a strong community and online focus which includes city dressing and video broadcasts of ghostly characters at some of the city's most iconic buildings, online storytelling and tutorials in costume making.
View the full programme at: derryhalloween.com
Tags: