But the 20-year-old also said he is glad he has a thick skin to combat online trolls, critics and negative stories that have been an unwelcome by-product of his increased fame.
Adam has almost three million subscribers to his YouTube channel and admitted he has spent the best part of the year keeping his breakthrough role on network telly a secret.
He said: "The BBC got in touch in December last year asking if I would be interested in maybe auditioning for the role and of course I said yes.
"And then we had a screen test in January this year all of which was before Covid, a world that I can't even remember now, and thankfully it all went well."
It now means he will be spending at least three days a week at the CBBC base in Salford, near Manchester, to film the classic kids' TV series alongside Lindsey Russell, Richie Driss, Mwaka Mudenda – and Henry the dog.
He said: "It's been incredible. It's so crazy to see the set get built just before the live show and whenever they turn on all the lights and the dry ice, it just looks like the classic Blue Peter. I was like, 'Oh my goodness, my inner child would be screaming right now.'
"For the first show day, to be honest, I was super excited. The whole time when we were going through slots and rehearsing it, I was just buzzing with excitement.
"I was behind the doors for the intro of the show before I got revealed and you get that sort of buzz, you get that fire in your belly and you're like, 'I'm live, everyone back home is watching, don't fluff your lines Adam!'
"But being part of a team in general is class because YouTube can be quite a lonely job at times, so definitely being surrounded by a team is a great difference.
"One thing that really surprised me is that, no matter all the things I've done on YouTube for the past few years, my grandparents were always supportive, always proud, but whenever I told them the news about Blue Peter it was like a different sense of pride.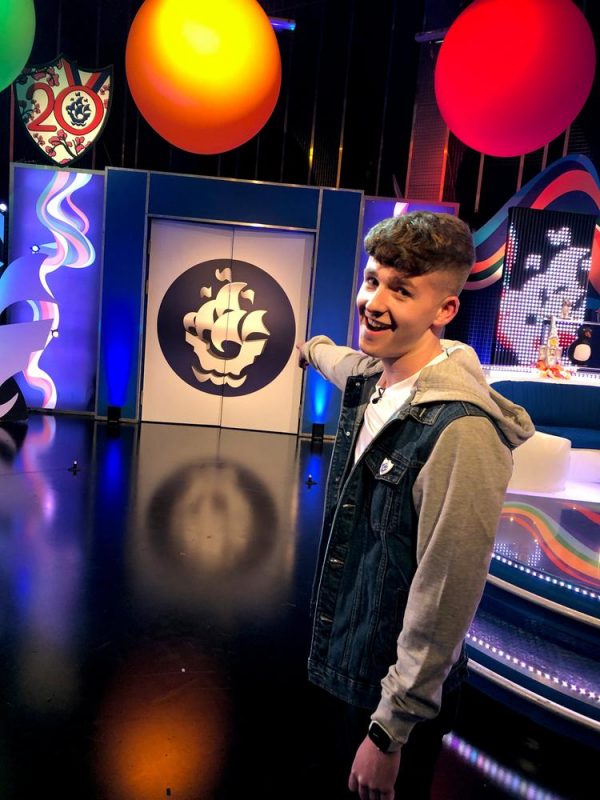 "They were screaming with excitement because they understand it, they grew up with it, while with YouTube it is maybe hard for the older generation to understand.
"So being able to join this team in such a class TV show, it's great. I'm still smiling, I couldn't help but dream about it all last night."
Adam, who is following in the footsteps of Zoe Salmon as a Northern Irish voice on the show, said he has already been asked if he can help fans get Blue Peter badges.
He said: "I used to watch the show growing up and that was a dream of mine, I used to think, 'I wish I'd got a badge'.
"And yeah, a lot of people were asking back home, 'Does this mean you can fast-track BP badges?'
"And I'm like, 'No, you have to play by the rules!'
"But I'm thrilled to be a part of this and I'm thrilled to bring that Northern Irish slant back and it's fantastic. I think people might have to get used to the accent because I appreciate it can be quite different from the usual voices on TV.
"I was super pumped whenever I got the call and it's quite funny because me and the other presenters, we have this little laugh, I try to teach them all the Derry phrases and phrases from back home and it's funny to see people with English accents trying to do the Derry accent – but that gave us a few good hours of entertainment in my first week."
He also reassured his millions of fans of his YouTube channel that he doesn't plan to abandon them because of his new television gig and said his online audience will still see 'Adam B'.
He explained: "That's the plan, it is the main goal to keep them separate. So when I'm on Blue Peter I see myself as Adam Beales the Blue Peter presenter and then on YouTube, it's Adam B."
Adam said he's "up for anything" on Blue Peter and his first challenge seen him abseil down a cliff edge with a mountain rescue team and stretcher above him.
But one challenge off camera that he has had to cope with is being a fresh target for the national media and on social media because of his higher profile.
He said: "I sort of grew up with this because I was doing YouTube since a very young age and growing up in numbers and growing the amount of subscribers and stuff like that it, I think it made me have a thick skin anyway to criticism, bad comments and just comments online.
"You just have to have a thick skin with these things. And, you know, you just can't let it get to you, and as I say, the whole team around here has been so reassuring. It's great to be surrounded by such a supportive group.
"It is what it is, you have to roll with the punches, if someone writes something bad about you or if someone wants to put a bad comment online about you, you just have to suck it up.
"There's no point crying about it, it's there, and you just have to deal with it like a big boy."
Blue Peter is on every Thursday at 5.30pm on CBBC.
Tags:
NEW Blue Peter presenter Adam Beales has been teaching his co-stars Northern Irish phrases and fending off requests for coveted show badges from folks back home.