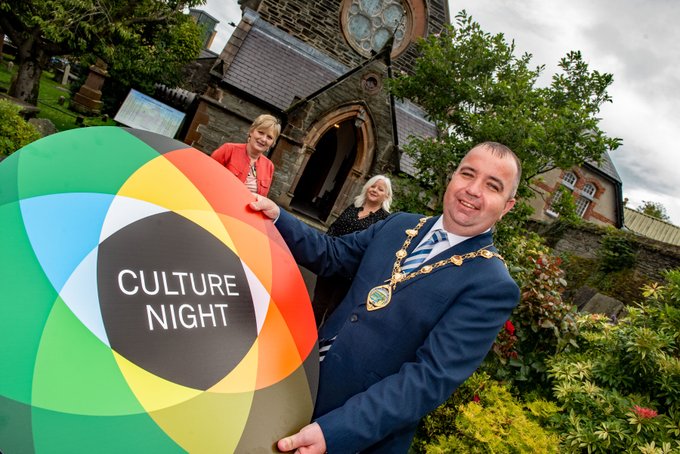 DERRY and Strabane will celebrate Culture Night 2020 with an increased online presence when venues across the City and District take part in the annual celebration of arts and culture this Friday, September 18.
The festival will see arts and cultural organisations throughout the island of Ireland open their doors in celebration with a wide variety of free admission events that aim to inspire, enlighten and delight the public.
The local programme has been tailored this year to meet Covid 19 safety guidelines and several venues will be able to open their doors to the public and host late night opening and special events associated with current exhibits.
Among these venues are Void Gallery, CCA, Art Arcadia and The Playhouse.
To ensure the programme can still offer its eclectic mix of visual arts, music, theatre and dance a number of performances have been moved online to Council's social media channels.
Speaking at the programme launch, Mayor of Derry City and Strabane District Council, Councillor Brian Tierney, encouraged the public to get involved in the extensive programme.
"I am delighted that we have been able to develop and tailor a programme of events for this year's Culture Night which will be a boost to the arts and culture sector locally who have been severely restricted in what they can offer during the Covid 19 restrictions," he said.
"Culture Night is an opportunity for the public to go off the beaten track and explore some of the hidden treasures around the Council area while you can also enjoy events from the comfort of your own home with the online element of the programme.
"I'd like to congratulate all the cultural partners who helped bring the programme together and for the imagination they have shown in ensuring the programme meets the safety guidelines."
Programme highlights include a special 'Off The Beaten Track' event at Hidden City Café which will offer an evening of good music, food and wine.
The online programme includes a knitting workshop hosted by acclaimed designer Edel Mc Bride, drama from Mockingbird Theatre, storytelling, animation, music, dance, discussions, history and heritage from a host of artists and organisations.
The Alley Theatre will be live streaming a 'Music to your Ears' event facilitated by Terry McCafferty and Ronan Doherty from 8pm – 8.30pm.
The Music to your Ears group are also launching a Double CD recorded and professionally produced during lockdown.
The CD includes 28 participants from the Strabane and Derry area, all over the age of 55.
This live gig will feature songs from the album including some great classic tracks and a number of newly penned original material relating to lockdown and the past 3 months
Visit derrystrabane.com/culturenight for the full programme.
Tags: