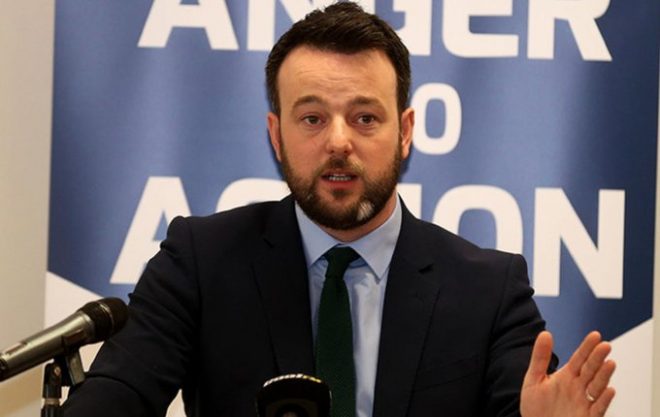 SDLP leader Colum Eastwood has said that 50 years after the formation of the SDLP, the party's values and commitment to building a fairer society have never been more necessary.
The SDLP Leader said that the party will celebrate its 50th anniversary with a programme of events which commemorate the progress that it has delivered but which will look firmly to the future, focusing on transforming the lives of people across Ireland.
Said the Foyle MP: "Fifty years after the formation of a radical new political movement on this island, with an ambition to end systemic, sectarian discrimination in housing, jobs and the exercise of political power, our society has been transformed beyond recognition.
"For decades, men and women like John Hume, Ivan Cooper, Austin Currie, Bríd Rodgers and many others demonstrated what could be achieved by living for Ireland and its people.
"Our success is measured in the scale of our achievements – the end of the Anglo/Irish conflict, the creation of political institutions which respect the difference and diversity of our communities, the fair allocation of housing, the reform of policing and so, so many others.
"But no one can look at the society that has emerged over the last fifty years and think that the work is done.
"Our society remains divided, our education system fails far too many young people and those who do succeed too often are forced abroad to pursue their ambitions.
"We have communities that have experienced peace but are still waiting for prosperity and the shadow of paramilitarism hangs over too many.
"It wasn't supposed to be like this.
"Earlier this month, I announced the establishment of a New Ireland Commission that will begin to undertake the serious body of work needed to build a consensus on future constitutional arrangements on this island.
"The next phase of the SDLP's work will build on the immense legacy that we've been left by the true Irish patriots who came before us. Our new generation of leaders will wage war on poverty and want, building a fairer, more prosperous society.
"Over the course of the next 12 months, SDLP members will celebrate our achievements, we will commemorate the loss of our heroes but everything we do will be future focussed, meeting the big challenges that our society faces.
"Whether it's making sure that every young person has the opportunity to live, learn at work here, providing everyone with the dignity of a home, or dissolving the barriers of mistrust between our communities, our vision of a reconciled people living in a united, just and prosperous new Ireland is needed now more than ever."
Tags: