The former SDLP leader died on Monday, aged 83, at Owen Mor care home in the city.
His body was returned to his native city on Tuesday night from Moville, ahead of Requiem Mass at St Eugene's Cathedral.
His son Aidan is unable to attend the service as he lives and works in Boston, USA, because of Coronavirus travel restrictions.
Bishop of Derry, the Most Reverend Donal McKeown will preside over the service while the homily will be delivered by Fr Paul Farran.
Mr Hume's family urged mourners wishing to line the streets to respect Covid-19 guidelines on gatherings and light a "candle for peace" at home.
On Tuesday night, many followed that advice as tributes continued to pour in from presidents and prime ministers for the former SDLP leader.
Prime Minister Boris Johnson tweeted that a candle had been lit in Downing Street, saying it was a "symbol" of the peace that Mr Hume "was so instrumental in securing".
About 120 people – mostly close family and friends – are expected to attend the funeral service, which is due to start at 11.30 am.
Local singer song writer Phil Coulter will close the service.
Since his death on Monday, tributes have been paid from across the world, reflecting his international reputation.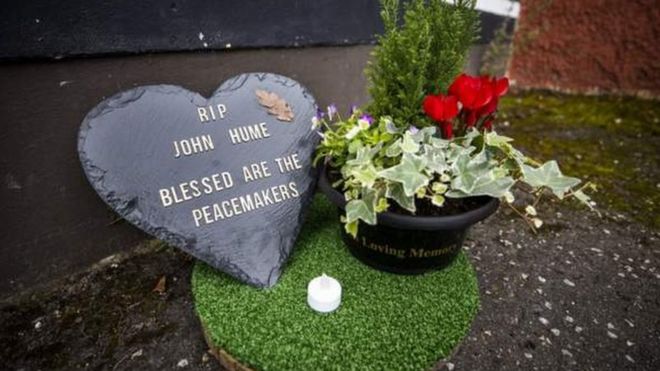 Former US President Bill Clinton remembered his persistence and unshakeable commitment to non-violence, while former UK Prime Minister Tony Blair, who was in office when the Good Friday Agreement was signed, described him as "a political titan".
The Taoiseach at the time of the deal, Bertie Ahern, recalled the former SDLP leader as a force for stability amid days of violence and chaos.
A book of condolence has been opened in Derry for people to pay their own respects to Mr Hume.
Tags:
THE funeral of John Hume, one of the key architects of the peace process, is to take place in his home city in Derry today, Wednesday, August 5.