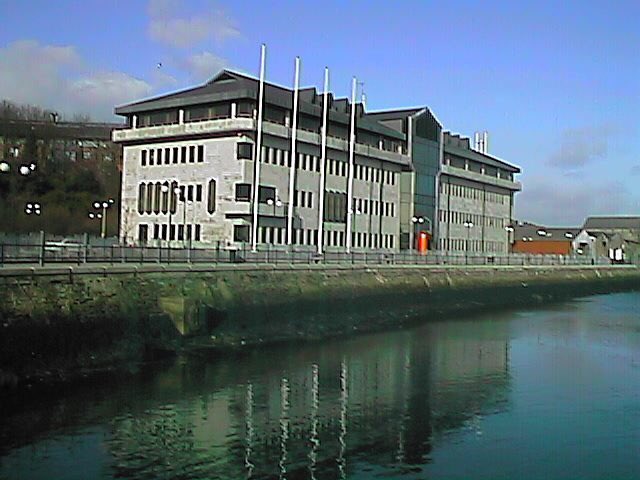 DERRY City and Strabane District Council has issued details below of the current status of all its services today Wednesday, April 1.
Please note there are very little changes to service provision from yesterday's information with some updated information on refuse services.
A spokesperson said: "We would be grateful if you could continue to share this information how Council is continuing to provide essential services during this challenging time.
"We are also continuing to update information on our website at – www.derrystrabane.com/coronavirus – and on Facebook and Twitter in an effort to keep everyone informed.
✅Council civic offices and public buildings – All Council owned buildings – including the Civic Offices in Derry and Strabane, the Tower Museum, Guildhall and Alley Theatre – remain closed to the public until further notice.
Critical services will continue to operate and the public can continue to contact Council by phone at 📞028 71 253253 or by email at info@derrystrabane.com
✅Committee meetings – All Council committee meetings have been temporarily suspended.
✅Leisure centres- All Council owned leisure centres remain closed until further notice. Anyone who has any queries regarding leisure membership should contact – memberships@derrystrabane.com
✅Community centres – All Council owned community centres remain closed until further notice.
✅Play parks, pitches and sports pavilions – All Council owned play parks, pitches and sports pavilions remain closed.
✅Public Parks – All Council public parks and open spaces currently remain open. As per Government advice these will remain open to allow the public to exercise only. The Council is continuing to advise the public to adhere to the Public Health Authority guidelines in relation to social distancing to help prevent the spread of COVID-19, and to act responsibly when out and about using our public parks and open spaces. Public gatherings ARE NOT permitted within public parks.
✅♻️Bin Collection Services♻️
Our refuse collection service continues to remain operational and we are seeing an increase in calls and queries relating to waste management and are currently looking at a bespoke COVID-19 waste response mechanism that could assist in dealing with this increased pressure on waste services. This is currently being scoped out and in the interim period the public are being asked to work with Council to try not to put additional pressure on waste services during this emergency period. You can help by doing the following –
– Please leave your bins out for collection at an earlier time of 7am to allow crews to get around all households.
– Please do not leave out black bags – Council cannot collect additional black bags left beside bins, please use the blue, black and brown bins provided appropriately, making sure to separate waste as usual according to recycling guidelines and dispose of waste responsibly.
– You should have adequate bin capacity as long as you are not dumping unnecessary additional items. Please do not put additional pressure on Council waste services resources and staff during this emergency period.
–
To assist us limit the spread of the virus, we would encourage the public to;
• Clean the lids and handles of bins before and after collection.
• Dispose of tissues and disposable cleaning wipes separately placing them in two plastic bags, tying and storing inside for 3 days before putting in the external black bin.
• Place all food waste in compostable bags and ensure that they are tied before putting in your BROWN BIN.
• Bring bins out either the night before their scheduled collection day or before 7am on collection day.
• Park considerately so lorries can access streets to service bins.
✅♻️ Recycling centres ♻️
All 11 Council recycling centres remain CLOSED to the public.
The public are strongly advised that as per the Government guidance at the weekend they should NOT be making non-essential journeys and should be staying at home.
Please use your blue, black and brown bins as appropriate and to separate waste as usual according to recycling guidelines and dispose of waste responsibly. It is an offence to dump indiscriminately and you could face a Fixed Penalty Notice or a fine imposed by the court.
Protecting our environment and keeping our streets, laneways and greenways clean are still a priority and everyone has their role to play.
For more information visit – www.derrystrabane.com/recycling
✅♻️Bulky Waste service♻️ – this service has been temporarily suspended to facilitate other essential waste service provision.
✅♻️Street cleansing ♻️ – Street cleansing services are continuing but with some changes to ensure the health and safety of the officers and the public.
✅Cemeteries – All Council cemeteries remain CLOSED to the public as of today Monday, 30 March 2020. Under the new Government legislation cemeteries must be closed and can only open to facilitate funerals and burials.
The Council understands that these measures are very difficult for many families who are grieving and want to visit the graves of loved ones.
We continue to work closely with the Churches and undertakers in relation to funeral planning and cemetery arrangements and appreciate the co-operation and understanding of the public at this time.
✅Births deaths and marriage registration –The Council's Registration of Births Deaths and Marriages service is continuing to operate and following new Government legislation is now able to provide an online service that will allow death registrations to be carried out without the attendance of an informant at the Registrars Office.
The Strabane Registrars office remains temporarily closed and restriction measures remain in place at the Derry office. Anyone with any queries please telephone 📞02871 253253 or 📞02871 376520 or email -registrars@derrystrabane.com. To view all the details relating to the changes to services and to access the relevant online forms please visit www.derrystrabane.com/district-registration
✅Community Services staff are working with the Department for Communities, local community groups and advice services to ensure that resources being made available in this emergency situation are delivered on the ground as soon as possible.
They are also working this week to help distribute the £280,000 funding package announced by Council last week to support community led responses to assist the most vulnerable. The funding package will see an initial £15k for each of the District electoral areas to support local responses and a further investment of £80k will be released on a rolling basis subject to need and the availability of regional funds.The Council is working with the Community Foundation NI's Acorn Fund to deliver an additional £50k to ensure the swift delivery of funds.
✅Car parks – Council owned car parks remain open as normal and the Department for Infrastructure has announced the temporary suspension of all on-street and off-street parking enforcement.
✅Planning Service has put into place a number of measures to allow it to provide a range of services including receiving of recent planning applications submissions by post and issuing priority, delegated planning decisions already in the system, (position under review.) Enforcement complaints are being dealt with on a priority basis as per Council's Planning Enforcement Strategy, with Priority 1 cases being prioritised and all other complaints being considered (position under review).
The public can contact the service directly at planning@derrystrabane.com or contact the main office at 📞028 71 253253.
✅Building control service–– While site inspections have been suspended until further notice, the Building Control service has put into place a number of measures to allow other aspects of its service to continue. Please contact the service directly at building.control@derrystrabane.com
✅Environmental Health Services – Environmental Health has put into place a number of measures to allow it to operate as many services as possible and can be contacted via the main office at 📞028 71 253253
Please contact the service areas directly at:
Environmental Protection E:environmentandneighbourhoods@derrystrabane.com
Food Safety E:Food@Derrystrabane.com
Health and Safety: E:HealthandSafety@Derrystrabane.com
Health & Housing: E:health&housing@Derrystrabane.com
Port Health E:porthealth@derrystrabane.com
Licensing E:Licensing@Derrystrabane.com
✅Dog Control Services – it is currently operating its dog control service with a number of restrictions in place for staff protection that includes self distancing.Stray dogs continue to be taken to the Pound where they can be reclaimed by their owner with five days. Where the owner cannot be identified then Council will liaise with any available dog homing charities who are willing to assist in finding the dog a new home.Complaints about attacks on livestock, dogs or members of the public continue to be investigated. Please contact 02871253253 E:dogcontrol@derrystrabane.com
✅Animal Welfare Service: Calls continue to be prioritised and investigated, providing it is safe for staff to do so and within the Government guidelines. The service remains under review on an ongoing basis. Many animal charities have closed therefore there may be no provision in place to rehome animals. Contact details: 📞028 82256226
E:animalwelfare@fermanaghomagh.com
✅Council Events – All Council organised events up until the end of July have been cancelled – they include: the City of Derry Jazz Festival, the North West Angling Fair, the Strabane Lifford Half Marathon, the Foyle Maritime Festival, the Strabane Summer Jamm, the Walled City Markets (04 April, 08 and 09 May and 06 June), the Lifelong Learning Festival (18-24 May)postponed, the Worker's Rights and Social Justice Week and the Battle of the Atlantic VE Day commemorations. All events in Council owned facilities are also cancelled up until the end of May.
✅Business support –. The Council Business team are available to offer advice and assistance to local businesses on the level of Government business support available. They are updating this information and uploading it via the website at – https://www.derrystrabane.com/businessupdates In addition, Councils Business Boost Programme will be rolling out a series of initiatives to help local businesses to navigate the current Covid-19 crisis, this includes: The Get Your Business Online Programme; Business Resilience Programme and Series of Skills Development Workshops
To register – www.derrystrabane.com/business/updates-and-support/resilience-and-support-workshops
Or contact Jacqui Elliott at Full Circle – jacqui@fullcircle.eu.com
✅Sports Development – All Sports Development programmes/delivery have been postponed until further notice. Officers are available to assist and follow up on any queries from the public. For any general enquiries please contact sportsdevelopment@derrystrabane.com. All officers have access to this email and will be picked up be relevant officer.
✅Community Safety Wardens – Community Safety Wardens have been temporarily redeployed to assist in patrolling our public parks to help with social distancing and providing reassurance and advice to the public. They will also continue as best they can to provide vital community service in an effort to provide reassurance and protection to our communities and keep people safe at this difficult time for many. Contact details – TRIAX/Waterside (07709 457690) / Outer North/Outer West 📞 (07736 213140) and Rural Waterside 📞 (07736 213152).
✅City of Derry Airport – A significant number of changes have been made by the airlines to some flight schedules operating at the Airport. The public are urged to visit the airport website for live flight information and regular updates.
For more information visit – www.cityofderryairport.com
Tags: